Richard and I have just celebrated seven years of being a couple so we decided to do something truly special to mark the occasion. We both lead very hectic lives so a spa weekend seemed a very apt choice to allow us to relax and recharge our energy levels. When we were invited to visit Mottram Hall we were both delighted as it is a picturesque Georgian country house set in beautiful gardens and also boasts an award-winning restaurant, golf course and spa!
I liked the fact that Mottram Hall (https://www.mottramhall.com) was set in a very rural location but that you could drive to the nearest train station if you fancied a day out in Chester or Manchester; both of which are within a commutable distance for a day out. However, there was so much to do in and around Mottram Hall that Richard and I just spent some relaxing time together and gave our car a holiday also!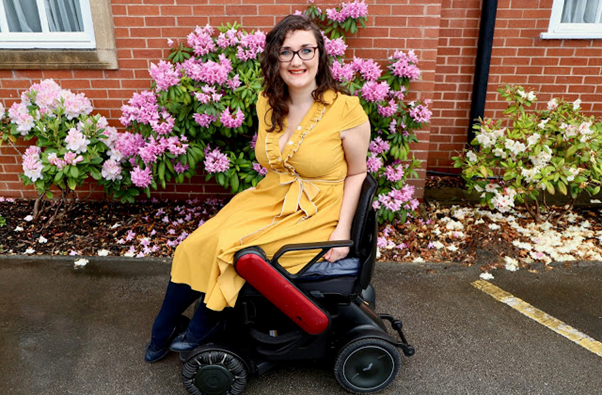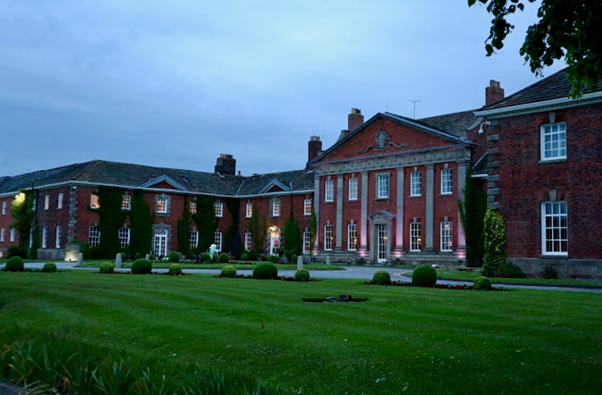 The approach to Mottram Hall is truly impressive with a tree lined road and views over the golf course and open grounds. As you drive into the property, you are immediately struck by the deep red brick of the 18th Century Hall itself. The climbing ivy, fountain and bright pops of colour from the floral arrangements all really add to the ambience of the exterior. The whole appearance seems well-suited to a fairytale or period drama and there were actually weddings booked at Mottram Hall on both of the evenings that we visited. I can only imagine the stunning photos that a professional photographer would achieve when given the beauty of Mottram Hall as a backdrop!
We continued around the left-hand side of the property to park our car. There were five blue badge parking spaces that gave us ample room to park up and unload my wheelchair. I used my WHILL model C during this visit so it was really quick and easy for Richard to assemble this in the car park so we could continue onwards. The yellow grid lines at the side of the spaces were perfectly wide enough for my compact WHILL to wheel around easily. There was a large car park just around the corner that you could use if the blue badge spaces were full or if you didn't hold that badge.
From the car park, it was a short wheel across to the entrance to Mottram Hall. This was picture-perfect with the climbing ivy framing the door. This was level-access and I had no problem getting my wheelchair through the threshold. The door was wide enough for most wheelchairs to enter.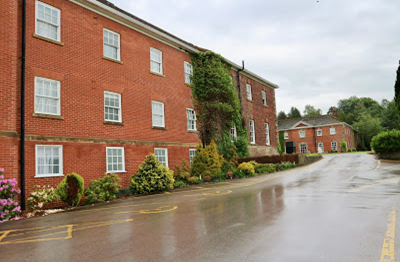 The Reception desk was immediately on your left as you entered the building and we checked in there. The desk was pretty high for me to see over from a seated wheelchair position but Richard checked in for us. On the access statement on the Mottram Hall website (https://www.mottramhall.com/access-statement), it says you can check in from the seated area adjacent to Reception so you could do that if you were a solo traveller who uses a wheelchair. There is a vibrating pillow pad available at Reception for guests who are deaf or have hearing impairments so they can be alerted in the event of a fire alarm during the night – just request this at the desk!
There were two steps to enter the main building from Reception but this was easily accessible through the ramp that was laid over these. It wasn't very steep and allowed my WHILL C to mount and climb it without any problem.
The corridors throughout the hotel were wide and obstacle free so I could access many areas easily. The business hub where corporate meetings are held did have sharp turns in the corridors approaching it. These were very difficult to navigate but my WHILL C did manage them fairly well since it has omniwheels at the front to allow for tight turns. Just be aware that this corporate section of the building is difficult in terms of access due to the historic nature of the building and the original layout.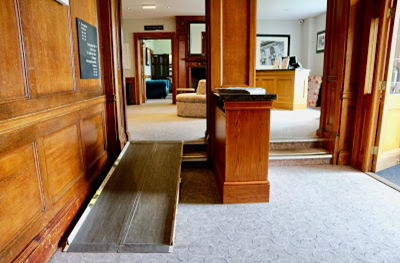 Richard and I checked into our room which was in an annexe, separate from the main building. This meant we had to wheel outside to visit Reception, the bar area, the restaurant or the spa. We did have beautiful, mild May weather so we didn't mind this so much! The annexe had a ramped entrance with automatic doors which is really helpful if you are a wheelchair user who is carrying a suitcase or is self-propelling. This section of the hotel was locked in the afternoon so you needed your room key card to unlock it. I liked this additional security measure.
Our room was really stylishly decorated and certainly looked like a high quality boutique room. I loved the pops of turquoise colour on the bed cushions and how this teal colour was reflected in the lamp and chair colours. The double bed was comfy and spacious. My wheelchair could access both sides of the bed which was great to see! The room was also very spacious which was helpful for us since I had brought my powered WHILL chair with us and also a manual chair for use in the spa area. There was no red emergency pull cord by the bed.
There was a large desk in the room with a desk lamp available to illuminate it. I used this for my makeup when going to the Carrington Grill restaurant in the evening. There was coffee and tea making facilities on this desk with complimentary bottled still and carbonated water and biscuits. The TV was mounted to the wall so we could play music in the evening or watch programmes if we wished. There were full-length mirrors as wardrobe doors with an iron, ironing board and spare bedding if needed.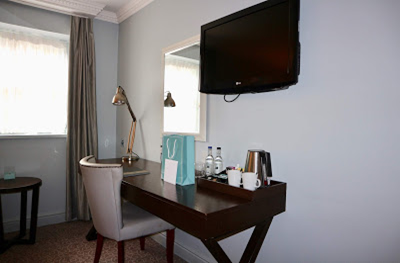 My WHILL C copes with lots of different terrains very well but I didn't have to worry within this hotel room since the carpet was made from dense fibres which allowed my wheels to travel around much easier. The bedroom area was really clean.
There were slippers and white robes provided for us to use when within the spa area of the hotel. I found these really handy as it meant we could sit in the outdoor area of the spa and not worry about getting cold from the slight breeze.
The bathroom had a tiled floor which was easy to self-propel around on. There were Elemis toiletries provided for use here by the sink. The sink itself was lowered so it was at an ideal height for me to use from the wheelchair. The grab handle support rails were really useful around the toilet area and there were also plenty of these in and around the bath to aid transferring. You don't often see a bath in accessible rooms and this would be a potential problem for many guests with access requirements. However, the staff at Mottram Hall were really upfront about this when we booked so I could analyse whether this would fit my needs. There is a seated shower available in the disabled changing room at the spa if this fits your requirements better – more on the spa further down this page!
I love seeing red emergency pull cords as these are a brilliant safety net for many people with disabilities. There wasn't a pull cord by the bed but there was one beside the toilet and within the bath. I only wish that these cords hadn't been tethered on the grab rails so they reached the floor in case a disabled guest had fallen to the floor. The sanitary bin also needed to be moved to within arms reach of the toilet when a guest with access requirements is using the room.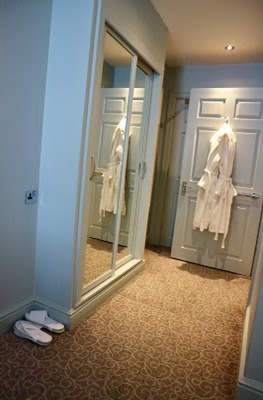 Once we had unpacked a little, Richard and I decided we would go down to the spa for some relaxation time before our evening dinner. The corridors again were really well laid out with plenty of space for me to wheel down. They were decorated with candle-lit lanterns, real floral decorations and faux flowers. We could see the wedding hall when we wheeled past and it looked spectacular so I hope the newlyweds get photos as beautiful as the scenery was!
To access the spa from the interior of the building, there was a flight of stairs. Obviously, I can't climb stairs so we decided to use the lift. When we arrived to press the button, this was inactive. Apparently the spa staff have to use a key to turn the power onto the lift to prevent children messing around in it since it was adjacent to the wedding hall. This could be a problem for a solo traveller as they couldn't use the staircase to speak to the spa staff on the floor below. However, we solved this by asking at Reception which was on the same floor and was accessible. They sent a member of staff down the stairs to get them to turn the lift on so that was easily solved with a small wait. The lift was smooth and easy for my WHILL C to fit it without any problem!
We found the accessible changing room in the spa area which was clearly signed. This room was a good size for me to manoeuvre around with my wheelchair. There was a toilet with plenty of grab rails to assist transferring and a sink and mirror at the perfect height for my use. The sanitary bin was still quite far from the toilet so that would make life difficult for a wheelchair user to use.
The shower was at a seated height and had many grab rails to use. The shower seat was broken at the time of our visit but will probably be fixed in the near future. There was a red pull cord within easy reach of the shower but this didn't reach the floor again unfortunately. Large lockers were available to store belongings safely when using the spa and fitness facilities.
My main concern with the disabled changing area was that it didn't have access through to enter the pool and spa area. This wasn't detailed in a sign either so Richard and I were hovering by the changing room doors, unsure of what to do. You had to wheel the wheelchair through either the male or the female changing rooms to get to the pool. Richard and I are a mixed sex couple so struggled to work out how we could enter since I can't self-propel safely with my spinal nerve damage. On the way into the spa area, we managed to find a member of staff who asked the men in the male changing room if it was ok for me (a female) to wheel through so that was slightly uncomfortable but doable. Unfortunately, the spa is unstaffed so we couldn't find anyone to help us when we wanted to exit the spa area. I had to ask a female stranger to push my wheelchair through the female changing rooms. I had great difficulty here as there were a couple of tight bends and there were square seating blocks in the middle of the floor for ladies to sit down when changing. Unfortunately, these made it too tight for me to wheel down either side so these had to be moved to one side. We did of course manage to access the spa area but it was more difficult than it needed to be.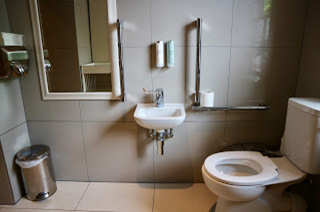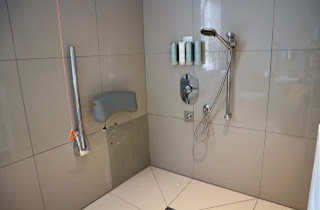 Richard and I didn't take many photos within the spa area for privacy reasons but captured a few brief shots from the glass outside of the spa. There are more detailed photos on the spa section of the Mottram Hall website (https://www.mottramhall.com/spa-and-health-club) but I'll explain the access of each section of the spa below.
Once we entered the spa area, there are plenty of sun loungers available at the poolside and on a level-access with the entrance to the spa. Within this area, there is a large pool with a smaller child-friendly depth shallow pool alongside it. I couldn't get into the pool as there was no hoist or ramp but there was a handrail to allow easier access down the steps into the shallow end of the pool of you were ambulatory. There was a jacuzzi indoors which had steps to enter and a very wide rim so you would struggle to sit on this rim and have a carer swing your legs into the jacuzzi. The indoors steam room and sauna had a shallow step to enter. We actually managed to get into the steam room by wheeling the wheelchair to the door and having Richard lift my feet over the step before standing within the steam room and swinging my body to the steam room seat. This was lovely and warm and I enjoyed sitting in there. There was obviously lots of moisture due to it being a steam room so we had to be careful when manoeuvring my body in case of slipping.
Outside there was a picture-perfect exterior spa area. There were sun loungers throughout this area. The cushions had been moved to a central storage area and some had marks on but this would be usual for cream cushions that are used outdoors. There was also a wicker basket chair that could swing or bounce (see the picture of me in that below). I loved how calm the outdoor area was and now many groups of people were being social and chatting in small and large groups. There was a lovely mix of age groups so the whole area felt very welcoming.
In the outdoor area there was another jacuzzi with a similar wide rim. I loved the idea of sitting in a jacuzzi outside and socialising with those on your stay with you. I was lifted into this by my partner Richard so I was really pleased that I could enjoy the jacuzzi despite the access barriers! The water wasn't really warm as I expected but perhaps the mild May weather had cooled the temperature down.
We decided we would also use the outdoors sauna rooms after our dip in the hot tub. These had lovely large windows that looked out on the hall's grounds. I particularly loved the Mineral Stonebath room since there was a really unique contraption in the centre. This heated a metal basket filled with mineral salted stones and periodically submersed this into a vat of water. This created a humid room filled with moisture and relaxing salt vapours from the rocks. I thought this experience was really special and immersed Richard and I in relaxing steam. This room was really popular with many of the spa guests and the lower layer of wooden lats could have done with a clean. However, we were visiting at about 4pm on a weekday so perhaps it was just due to this room being really popular.
Overall, the spa wasn't very accessible for wheelchair users and perhaps further details should be included about this in the online access statement. I think if you are ambulatory or are travelling with a carer/ companion though that many of the spa experiences could be managed with help. With him lifting me around, Richard and I still had a lovely time immersing ourselves in the calming spa area!
I didn't personally use the gym or fitness zones due to the nature of my disability but these looked really great areas. There were many classes running throughout the day with a lot of variety to suit every fitness level. I loved that these were all detailed on a large noticeboard as you entered the fitness area. The gym itself looked very popular and had a wide array of high-tech equipment available – a wonderful area for fitness buffs!
There were also padded wicker chairs away from the spa zone itself that some groups sat in whilst wearing their spa robes. It was nice to see an area that you could relax away from the warmth of the spa area and many groups were sat, having a good catch up there. There was a level-access area to this and also a flight of stairs to climb to a raised area.
If you wanted to have a full pampering experience then the award-winning treatment areas had many offers to tempt you. I spoke to various guests at the spa and every one was quick to praise the relaxation and pampering they got from their spa treatments! There are treatment rooms on the ground floor at level-access but there are also some up a flight of stairs. Just make sure to mention your access requirements when you book and treat yourself to a pamper!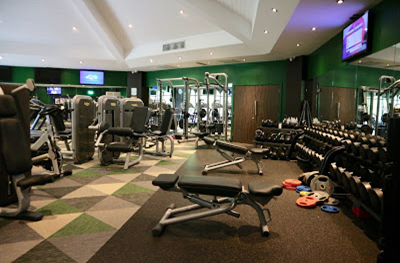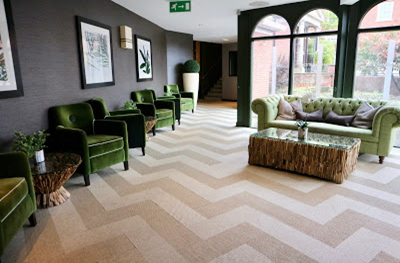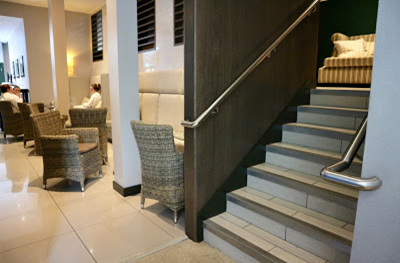 Once we had changed back into our clothing, we went to shower in our room. Richard lifted me over the bath side so I could freshen up from the relaxation of the spa.
We decided we would have a wheel around the exterior of Mottram Hall. There was a couple getting married on the Thursday we arrived and another on the Friday we departed. I could certainly see why! The gardens and view of the Georgian Hall were spectacular and would be the perfect spot to create long-lasting memories in your wedding photography.
There was a large lake, cobbled pathways circling the hall and outdoor seating areas for when the weather was slightly warmer. We left the main building through a door next to the disabled toilet and this has a gentle ramp to lead us outside the property. I loved that the staff at the hall had thought about access to the grounds through other doors rather forcing Richard and I to wheel back around to the main entrance to go outside. The flower beds were in full bloom and gave a colourful backdrop to the well-manicured greenery.
We didn't use the golfing facilities (imagine me attempting to swing a golf club with my spinal damage haha!) but they looked great. The greens were again well-maintained and there was a large array of golf buggies that you could hire. Once you've finished going around the large 18 hole championship golf course, you could enter the Golf Clubhouse building which had a shop and changing rooms on the ground floor. This building also contained the Claret Jug which was a restaurant and bar that could be accessed via a ramp and contained accessible toilets. It looked beautiful all lit up at night and had a balcony area that overlooked the greens and the grounds of Mottram Hall.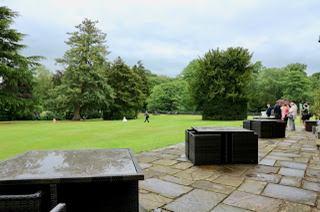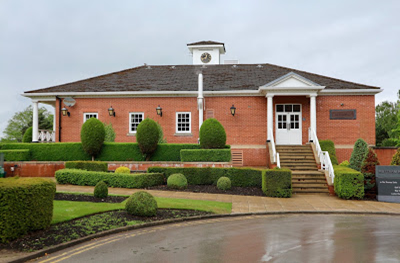 We had a really pleasant stroll around in the mild May air but then decided to head to the Carrington Grill which is a bistro dining area that has recently been awarded two AA Rosettes. You entered this from the main corridor and it was completely level-access through two glass panelled doors. A manual wheelchair could easily fit through a single door which remained propped open but the maître d' was kind enough to open the second door as soon as he saw my powered chair (the WHILL C) approaching down the corridor.
The restaurant seemed very popular and many couples and groups were dining together. This created a really bubbly, pleasant atmosphere and we were tempted by the smell of delicious food cooking as soon as we entered this area. We had booked a table for 8pm at the Reception when we checked in and they were kind enough to seat us outside of the central dining area and on a table to one side. This meant that I didn't have to ask diners to tuck in stray chairs to clear the aisle to wheel down. The maître d' removed a chair for us and I wheeled my chair up to the table. I am lucky that my WHILL Model C can perform very tight corner turns so I could very easily swing around and park close to the table. However, there was plenty of space in this area to swing around even the most cumbersome of chairs. The carpet was easy to wheel on and there was plenty of space in the area we were seated at for my WHILL to weave between chairs. Just mention your access requirements when you book.
Richard and I had booked the hotel stay option that included evening dinner dining so we both had £28 to spend on food. This was an ample amount to allow us to have a two course meal and we were so full after this that we couldn't have eaten a third course anyway!
The food menu is seasonal so do check out the Mottram Hall website for the current menu at the time of your visit (https://www.mottramhall.com/dining/carrington-grill). For our starter, I ordered the Mottram Bread Board which included three different types of artisan breads alongside three dips of homemade pesto, olive oil and balsamic vinegar. The portion size was great and I enjoyed sampling each of the breads alongside the dips. I couldn't actually eat all of the starter so I gave bread to Richard to enjoy with his parfait! Richard ordered the Smooth Chicken and Duck Liver Parfait which was drizzled in a garlic butter and came alongside a fig jam and brioche bread. Richard thoroughly enjoyed his parfait and the portion size was very generous; he ended up using half of my bread to enjoy the rest of his parfait with! It's not something we usually make or buy at home so it was a real treat for him to enjoy such high-quality ingredients
The waiter was really helpful and friendly throughout our visit; he was great at recommending dishes and filling our jug of water frequently. This just made the experience additionally nice!
I ordered the Roasted Goosnargh Duck Breast which came with porcini mushroom parfait, confit potato, romanesco, kale and black pudding. The plate was presented in a really attractive way, with bright colours and the perfect layout to be aesthetically pleasing! Honestly, the duck was the best that I have ever eaten and Richard and I do tend to go to many restaurants to talk about their accessibility. It was juicy and flavoursome but the skin was also crispy so the texture palette was really wonderful! I think the various vegetable side dishes complimented the flavour of the duck perfectly. I would definitely recommend this to anyone visiting Mottram Hall; a fabulous culinary experience!
Richard ordered the Pan-fried Sea Trout which was accompanied by fennel, samphire, brown crap and caper butter. This again was very aesthetically pleasing on the plate. The pink sea trout had a mild flavour whilst having plenty of meat and a juicy, light texture. Richard thought that the capers and sauce really complimented this dish. The vegetable accompaniments were clearly very well thought out by the chefs and we could both definitely see why this restaurant was awarded the AA Rosettes!
Overall, the food and service at the Carrington Grill was wonderful. This wasn't just a meal but was a whole dining experience! I think this would be the ideal choice for a date night, corporate meal to impress clients but also for a celebratory group meal alongside friends and family.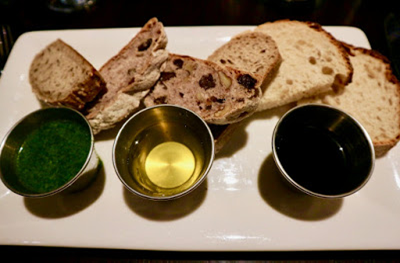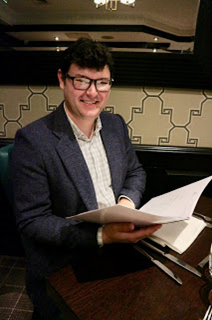 I think the only thing that wasn't perfect about our dining experience is that the disabled toilet for this section of Mottram Hall was out of order. A guest at the wedding had vomited in it and strong chemicals had been placed in it, rendering it out of order. There was an alternative disabled toilet in the Business Hub section of the Hall but this was very far from the restaurant and meant weaving in and out of tight corners. My chair managed to navigate this movement when heading towards this bathroom but I scratched my chair on one of the turns when travelling back. It's unfortunate that this happened as one of my medical conditions requires a toilet close-by when I consume food. I can often need to travel to the bathroom at very short notice.
Despite this disrupting our otherwise delightful meal experience, I wouldn't let this put you off visiting Mottram Hall or dining there. This was obviously an unfortunate isolated incident and is very unlikely to be replicated if you were visiting the Hall. Plus, many other wheelchair users don't need an urgent bathroom trip so could have navigated their way slowly through these corners to the alternative toilet or headed back to their rooms perhaps. Plus, I can understand why there are few accessible toilets due to the historic nature of Mottram Hall itself.
We didn't get chance to have a drink at the gorgeous bar area unfortunately as I need prompt access to the bathroom when I consume food or drink. However, the bar was well-stocked and this was a really beautiful, grand space. It became very busy in the evening and almost all of the seats were filled but the other guests were really friendly and we could have easily sat at a table already occupied by other guests.
I loved the decor in this space and the jovial atmosphere here that resulted from it being filled with many people! Definitely try and give the bar a go if you are to visit Mottram Hall!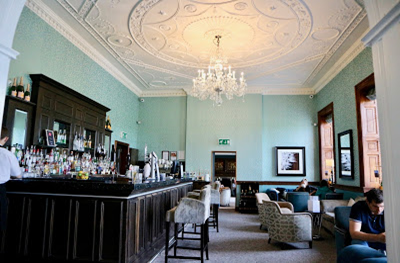 We instead headed back to our room. It's worth noting that room service is advertised on the menu as twenty four hours but all hot food isn't served after around 9pm.
We both had a pleasant night of sleep and felt very relaxed after our day of spa pampering and casual strolls around the Mottram Hall grounds! Check out wasn't until 11am which gave us time to pack our bags at a leisurely pace and go down to have breakfast.
This was also served at the Carrington Grill and was absolutely wonderful! There was such a wide range of variety which I loved so we could sample an array of different dishes. This was self-service which could be problematic if you were self-propelling but lots of waiting staff were on hand, replenishing hot drinks, so I am sure they would assist you if required. The flooring was dense carpet which was easily wheeled over in my WHILL Model C. In terms of seating, we decided to wait until a table became available at the side section of the restaurant. This meant that we didn't have to disturb other guests whose chairs did block the aisle slightly. Plus, it meant I could easily wheel across to the self-service buffet area independently whilst holding a plate. I think it might be worth heading to the breakfast with plenty of time to spare in order to get a table that is more accessible. Plus, you want plenty of time to sample all of the wonderful food options that were available.
On top of the huge variety of options available at the self-service area, you could also order hot food to your table for an additional charge. This included smoked haddock with a poached egg and hollandaise sauce, eggs benedict with with serano ham on an english muffin, french toast and smashed avocado with sun blushed tomatoes on sourdough. Such variety!
In the buffet area, many cereals were on offer alongside fresh fruit, fruit in syrup, yoghurt and nuts to top these. The pastries were fresh and regularly replenished; there were pain au chocolats, croissants, raspberry jam squares, custard jam squares and apple slices to name a few! To compliment the buttery, flaky pastry treats there were small plastic bowls of locally produced, homemade jams and lemon curds. These toppings could also be used on toast or bread and there was a wide selection of these available alongside nutella and marmite pots. A continental style option was present in a selection of cured meats and sliced cheese.
Personally, my absolute favourite part of the breakfast was the hot selection! There was a huge bowl of porridge if you wanted a lighter option. The kedgeree was creamy, mild and light but there were spices that you could top this with if you wanted a stronger spicy flavour. The sausages and bacon were obviously from a high-quality source as the meat was flavoursome and it didn't taste fatty at all! You could accompany your meat with buttery mushrooms, fried eggs, cooked tomato halves, hash browns and beans.
Every single item in the breakfast selection that Richard or I tried was absolutely delicious! The ingredients were clearly of a very high quality and the flavour palettes were perfectly balanced. I would highly recommend Mottram Hall for their wonderful, flavoursome breakfast and their great food in general!
Unfortunately, that marked the end of our stay at Mottram Hall. We both had a lovely time despite the accessibility challenges. We could easily wheel around the gardens and exterior of the building and Mottram Hall had a gorgeous, picture-perfect exterior! It would be absolutely ideal for a fairytale wedding. The Hall itself was also really accessible with wide, smooth corridors, ramps over stepped areas and a lift to get down to the spa. The spa itself had many challenges for a wheelchair user but if you had a carer or partner willing to lift and manoeuvre you then some of these can be overcome. I loved that there was an outdoor area to the spa as we could relax in a jacuzzi or sauna room whilst admiring the well-manicured grounds of Mottram Hall. We didn't purchase any additional treatments but there were ground floor treatment rooms and many guests we spoke to gave high praise of their treatment experiences.
We had a problem with the disabled toilet in the main building when we stayed but this is very likely to be an isolated incident that won't be repeated if you chose to stay. The staff were really friendly and helpful throughout our stay; particularly the dining staff. The food was amazing! I would absolutely recommend the dinner and the breakfast to anyone who asked! The food was so aesthetically pleasing whilst being high quality and very flavoursome. I can fully understand why the restaurant has been awarded AA Rosettes as the culinary experience was absolutely exemplary!
I think Mottram Hall would be fully perfect for an ambulatory wheelchair user or able-bodied guest. However, despite the challenges for wheelchair users, I had a wonderful time away with Richard! It was a beautiful property with divine food options and a relaxing spa.
Do make sure to check out Mottram Hall (https://www.mottramhall.com) if you ever want to stay in the Cheshire area and I would be more than happy to answer any questions you have if you email disabledtravelwithgeorgina@gmail.com. Otherwise, Mottram Hall do have an access statement online (https://www.mottramhall.com/access-statement) and you can ring 0845 034 5777 if you have any further questions.
Thank you all for reading and I hope you have a magical experience at Mottram Hall!