Those of you who follow my blogposts as they are published will notice that there has been a small break between this post and the one preceding. I can only apologise for this and I hope to keep you all updated on a more frequent basis. I had to undergo a serious spinal cord operation and my recovery time from that has been laborious; in fact, I am not even fully recovered as I write this so apologies if I miss any details out. If you notice anything that my *pain brain* has missed then please don't hesitate to pop an email through on disabledtravelwithgeorging@gmail.com
Richard and I took our yearly holiday on the Isle of Wight and had truly gorgeous weather. The unusually hot sunshine was the perfect backdrop for the relaxation and serenity of Ventnor Botanical Gardens (https://www.botanic.co.uk). They are the perfect place to visit in rain or shine since the plants are spread between large outdoor areas, shaded tree canopies and large Victorian-style greenhouses. I found the disabled access to be brilliant; there were plentiful accessible bathrooms available, ramps and a map that detailed the locations of steps. When we visited, the lift that allows a wheelchair user to access every level of the inside building that holds the restaurant, cafe and shops was actually out of order but the website did warn us about that and we were also informed when collecting our tickets. The only thing we missed out on here I believe was a small floral exhibition within the museum area.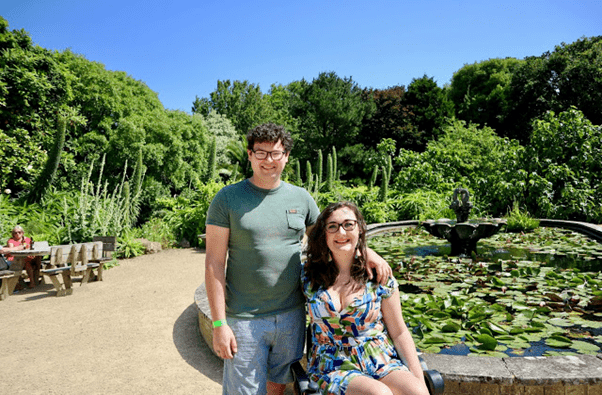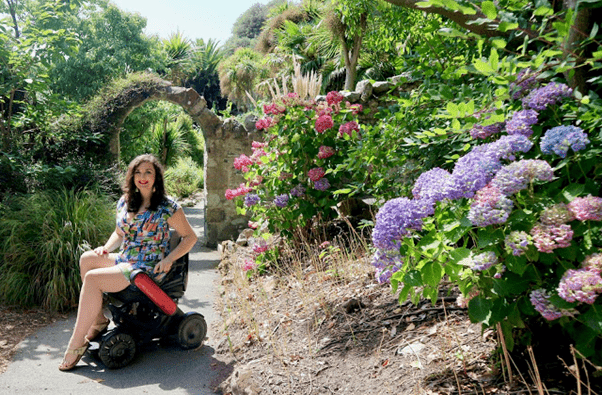 As you enter the car park of the botanical gardens, you'll find a number of parking spaces designated for Blue Badge holders. You can park in the car park free of charge but the price of parking is free anyway when bought in conjunction with an entry ticket. The car park was really generous and you would definitely find a space to park if the disabled parking area was full.
There is a slowly inclining tarmac ramp that leads to the shop area which is where you also buy your entry tickets. The ramp gave me no problems at all and there was a smaller ramp at the base to allow wheelchair users to enter the gift shop area. I use a WHILL Model C which is a really compact powered chair and this had no problem manoeuvring within the shop area. The WHILL has specially designed omniwheels on the front to allow tight turns but I honestly think the layout of the shop would be perfect even for users in larger chairs. The aisles were wide and the terrain was very smooth.
The botanical gardens give free carer tickets when shown proof of disability and when bought with a paying disabled guest. I thought the entry prices (£7.50-£9.50 depending on your age, student status and whether you purchased these online) were really reasonable when you consider how much there was to do across Ventnor Botanical Gardens. We spent around four hours exploring everywhere but you could easily spend longer if you brought a picnic or were attending one of the many festivals and events that the gardens run throughout the year.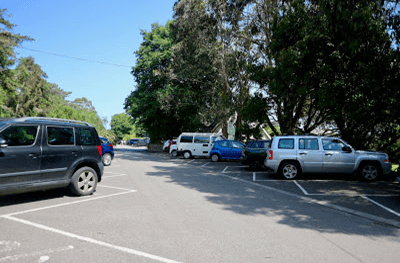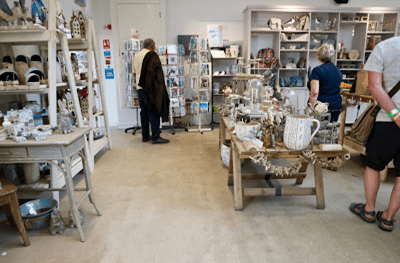 The disabled toilets were clearly signed. Pictured below is the accessible toilet within the car park but we also found a generous one beside the restaurant and there are others that we didn't use. The car park disabled toilet had a ramped entry and wide doorways to allow my WHILL C to enter easily. The disabled toilet was within a unisex block of toilets so you would have to feel comfortable travelling through here which would perhaps be a slight stumbling block if you have gastrointestinal chronic illnesses. The disabled toilets we found within the gardens were all individual rooms, separate from the male and female toilet blocks.
The stall I used had plenty of grab rails to allow transfer and the sink was at the correct height for me to use easily in a seated position as a wheelchair user. The only things that the gardens could work on was the fact that the sanitary bin was not within arms reach of the toilet and the red pull cord was gathered at ceiling height so a disabled person couldn't pull it if they had fallen to the floor and required assistance.
Otherwise, these toilets were really clean. There was enough space for me to turn my WHILL C a three hundred and sixty degree turn so I could exit the toilet facing forwards. Although, it is worth mentioning that the front omniwheels of my WHILL do give a really tight, easy turning circle so I can easily rotate in tighter spots. I don't think a larger mobility scooter would be able to turn around easily.
The gardens themselves were truly spectacular; they emitted a serenity and calm as we emerged ourselves in nature. The grounds were large enough that, although the gardens were really popular on the day we visited, Richard and I often found we had long pathways to explore without even seeing another visitor! I loved the vibrancy of the flowers and the wafts of sweet scents as we lazily wheeled in each of the areas.
The botanical gardens are arranged in separate sections which showcase plants from that region or different varieties of the same flower. There were themed decorations in each of these areas to immerse visitors into the mindset of the plants' source. I found the map very informative when finding out the theme of the area that we were in and there were plenty of plant labels if you wished to know the names of the blooms. The map was also great as the pathways were marked and a short flight of steps was included on the map to mark the areas that would involve steps for a wheelchair user. We didn't find that we missed out on anything despite these stepped areas since there were always level-access pathways that wound around to allow us to enter these areas.
I loved the fact that the majority of the terrain consisted of very flat tarmac pathways. There were a few areas with compacted sand or slight bumps where tree roots have grown but I had no problem wheeling around and my WHILL C is not an off-road wheelchair.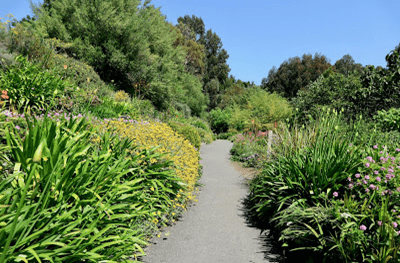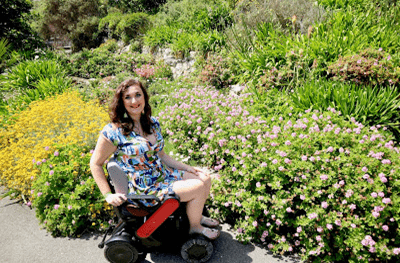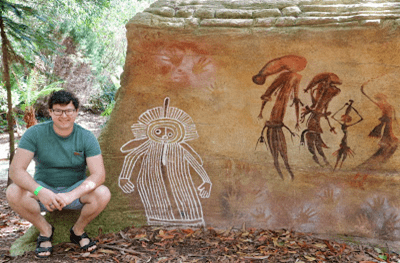 The central courtyard holds a water feature and a pond with fish and terrapins swimming around. This was a gorgeous area and I loved watching the terrapins traverse the waters, winding between the fish and the lilypads.
Directly behind this courtyard, the Edulis restaurant holds an inside area and also picnic tables where many people were sat having beers and soft drinks when we visited. The restaurant sources many of their ingredients directly from the planting areas of the botanical gardens. We actually saw the chef preparing a fresh batch of herbs and vegetables that the gardening team had harvested as we arrived in the restaurant. During events such as the Vegan Festival, the cuisine at the restaurant mirrors this and serves vegan delicacies to allow everyone to sample vegan cuisine without having to prepare this themselves at home.
We didn't dine in the restaurant but the dining area did look to have wide enough spaces between tables to wheel a wheelchair through. There was one raised platform dining area but presumably you could call ahead and book a table which was on level-access with the outside Mediterranean Courtyard.
The disabled toilet adjacent to the restaurant was very clean and everything was within easy reaching distance when seated on the toilet. The toilet was clearly marked on the map that they give visitors alongside their entrance tickets so you could find the central toilets easily.
The only hitch here was that the lift wasn't working when we visited. Apparently the parts they need to source aren't manufactured anymore so they are currently exploring options as to how to regain wheelchair access to every floor. The botanical gardens are currently allowing visitors that would usually use this lift to drive their cars down to a central designated point where they can then explore the entirety of the gardens at their leisure.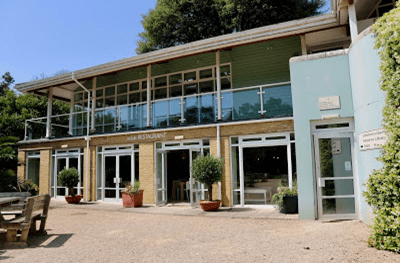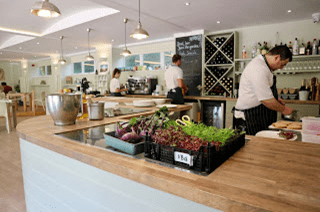 There were plenty of demonstrations, guided tours and special events that we could have attended but Richard and I just loved exploring the gardens together at a leisurely pace. It was thrilling to see the small wall-lizards climbing over their rockery and to see such a wide variety of plants; Ventnor had everything from succulents and cacti to bedding plants and palm trees! I think the demonstrations would be particularly interesting if you were visiting with children as it would be a really fun, educational way to introduce them to things like mushroom growth and exploring the "secret garden areas" which are away from the usual beaten tracks!
The herb and medicinal garden gave gorgeous aromas and I think that the intense sensory experience may appeal to those who are blind or partially sighted. The gardens themselves had beautiful aromas too that carried a long distance! Guide dogs are very welcome at the gardens – in fact, every dog is allowed in the gardens when they are on a lead!
You can download many different trails, routes and walks depending upon your interests. These maps can be found on the Ventnor Botanical Gardens website at https://www.botanic.co.uk/visit-the-garden/garden-maps-trails-to-download/.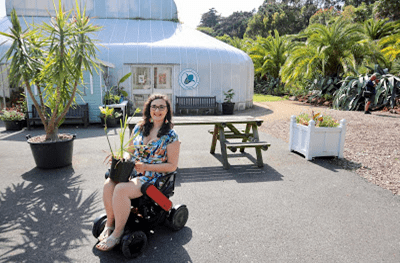 Overall, Richard and I had a wonderful immersive experience at Ventnor Botanical Gardens and loved the vibrant colours, sweet aromas and interactive textures of the plants they grew there. I thought that they had really thought about accessibility through giving a detailed map, maintaining pathways, providing plentiful disabled toilets and providing free carer ticket entry. It was a shame that the lift was out of order during our visit but, as mentioned, the Botanical Gardens really did highlight this fact to us prior to entry and had provided an alternative way to see the areas that are important.
I would highly recommend Ventnor Botanical Gardens to anybody who is visiting the Isle of Wight; whether as a couple, a dog owner, an individual or a family or group. I really do think there is something for everyone and we just lost track of time as we explored each area and engrossed ourselves in the plants of each themed area. Check out the Ventnor Botanical Gardens website for more details and for information on their festivals and special events; https://www.botanic.co.uk.
Enjoy your visit!