This is a particularly exciting blog post for us here at Disabled Travel with Georgina; we are celebrating the launch of our wonderful new website and I also wanted to share some truly fabulous news with my amazing followers… WE ARE NOW ENGAGED!! You may have seen posts on my Instagram feed (@disabledtravelwithgeorgina) but I wanted to talk you all through the day and give thanks to all the people that made Richard's epic proposal happen!
Richard and I were invited to model on a socially distant photoshoot. Of course, 2020 has been a particularly hard year for those within the wedding sector since these events, understandably, have been cancelled or postponed. Therefore, these wedding suppliers often collaborate on what they call "styled shoot". This is where two models are photographed and videoed amongst the creations of these vendors. For example, I was wearing a handmade wedding dress and was pictured with floral arrangements and a homemade cake. Each of these wedding suppliers can then use these photos for their own advertisement if they choose to whilst Richard and I just get our memories captured. I loved prancing around in a wedding dress and my proposal at the end of the shoot was such a dream!!
I wanted to thank each of these suppliers who each knew about the upcoming proposal; each of them managed to keep that huge secret and allow me to be wholly surprised when it happened.
For me, it's so important to have inclusivity in every industry so when we were asked to be models I jumped at the chance! The wedding vendors were all amazing; not only were they friendly, welcoming and bubbly but they were also very mindful of my disability through not asking me to do too much movement and ensuring all the locations were accessible to me. I used my powered wheelchair, the WHILL type C, throughout this shoot and I was conscious that it is a chair built for manoeuvrability and ease of transport rather than being an all-terrain chair.
Our styled shoot was located at Sheffield Manor Lodge (www.sheffieldmanorlodge.org) which is a beautiful rustic venue outside of Sheffield, Yorkshire. The area that we were mainly based in was a gorgeous barn with heavy beams interweaved with sparkling fairy lights. This is an extension from a historic Georgian farmhouse so you would expect to run into access issues when visiting as a wheelchair user. However, the extension was very easy for me to explore and included ramped wide glass doorways as an entrance, smooth flooring throughout and a large accessible toilet that I had no problem pivoting my chair within. I was thrilled to see all of these adaptations whilst retaining the original character of the area.
I particularly loved the exterior patio area which was set amongst a backdrop of vibrant wildflowers. This romantic floral area tied beautifully in with the sweeping floral meadow that was attached to the original sixteenth century turret house. The pathway along the meadow was understandably less adapted but these were no impassable obstacles such as stairs or steep slopes once we drove down to the lower, meadow level.
The images that the photographer (https://flyonthewallphotography.co.uk) captured within these romantic areas are beautifully candid and just express the joy that Richard and I both felt throughout the day.
I've worked with our photographer, Adele, on previous shoots and we "clicked" instantly as friends. Her company Fly on the Wall Photography (@Flyonthewallphotography1) is local to me. She's a bubbly, relaxed person with just the right demeanour to put you at ease. Richard particularly didn't grow up in front of a camera lens at all so it's wonderful to see such natural shots of us as a couple just enjoying ourselves. I think Adele's true skill is that she can capture those milliseconds that express our true close connection and adoration fro each other. I loved that there were no static, posed photos where we awkwardly positioned ourselves to meet her requirements; the moments were fluid and genuine. This reflects in beautiful images of course but also really helped to adapt the shoot to my disability. When photographers try to push my body into poses or shooting locations that aren't suitable, my pain significantly increases where my spinal nerves are damaged. Through shooting in this way, Adele allowed me to listen to my own body and move solely in comfortable ways that didn't aggravate my pain and sickness. 
Adele got some really wonderful, natural shots that perfectly represent Richard and I. Plus, the photographs she took (further down) of our proposal are truly magical! The photos and videos of Richard's proposal are things that we will show our grandchildren one day and are certainly getting displayed in our home as soon as COVID-19 allows me to choose some nice photo frames in person!
Another fantastic supplier who have given us something to treasure for decades were the incredible duo at Keeley Wedding Films (https://www.keeleyweddingfilms.com) who were our videographers during the styled shoot. I loved the fact that they were a married couple as it felt more at-ease and comfortable; plus, having two videographers meant that they didn't miss a moment! I again loved how little I felt they intruded in our moments. Any movements they asked of us were natural transitions that we would perform during each day such as squeezing each others' hands or looking towards each other. In fact, it was amazing to have video of the small, unposed things such as how Richard looks at me or my smile when I see him.
You can check out the whole film through this YouTube link; I hope you find it as beautiful as I do!

I must admit that a videographer seemed slightly like a non-essential expense to have at my own wedding. However, seeing the beautiful, emotional clip of our proposal – I am a full convert and will definitely be getting quotes for 2021! The video was at once intimate but also represented the beautiful moments we had interacting with each other so we could show the proposal moment to family and close friends. The editing was perfect; Grace sent us a few versions of the video so we could post it on social media if we wanted or share the longer length version with close family. Their social media is packed with beautiful clips that you can check out (@keeleyfilms)!
Grace and Brad were such lovely people who we will certainly keep in contact with throughout the years! Again, I felt truly comfortable around them and didn't feel pressurised at all to overstretch myself physically and risk passing out. I think one of the most important things when you're a chronically ill/ disabled person on a photoshoot or at an event such as a wedding or large gathering is to be very honest with the people who are shooting the video and photos. It's easy to be swept in the moment of "I could just about manage that" rather than thinking of the long-term pain consequences of momentary movements. I'm sure you're sick to death of people talking about pacing strategies but they certainly come into play when you're at a long-haul event like this. It's important to listen to your body's needs and try to communicate them to the suppliers around you so they can adapt everything to your needs. All of the suppliers at this shoot made communicating with them so easy as they were such lovely, open people who I immediately felt comfortable with!
I loved that Grace and Brad were a married couple who had worked together many times as it gave a really comfortable dynamic and they didn't miss a single shot! Sometimes it's the little things that you want captured; how Richard looks at me when I'm not watching or how I unconsciously am drawn to move towards him. On top of all that soppy rubbish, I loved how real and approachable both of them were throughout the shoot and afterwards when we communicated about the footage. Grace and I have actually become good friends since this shoot so I can guarantee her lovely, bubbly nature if you book them for your special event!
Not going to lie, comfort is a high priority factor for me at all times. Between my spinal cord nerve damage and my sciatica, I have a tendency to pass out when things become too much for my body pain-wise. Although this is obviously my body's protective mechanism, I would really really like to avoid blacking out on my wedding day or during perfect shoots such as this. This was one of the reasons that I was so thrilled to meet Amber at (@quinlancouturebridal on Instagram) who was my dress designer for this shoot. Immediately, she was talking about my happiness and comfort during the shoot and did absolutely everything she could to reduce my pain so I could prance around in my princess dress without a care in the world!
The dress Amber designed for me was amazing when paired with my powered wheelchair. It was the right length to give romantic flair to the design but also wasn't too long with too much volume as these things often result in the fabric getting caught in my front two wheelchair wheels. Also, since I am disabled, most of my photos are taken whilst I am seated so it was wonderful to see the attention to detail that Amber put in to the top half of the dress. The flared sleeves were so fluid and draped beautifully as I moved or as I reached my arm out to steer the wheelchair. Plus, I was a huge fan of the neckline! Not only was it flattering to my shape but it also included beaded lace appliqué around the neckline. These miniature details were stunning as they added eye-catching hand-crafted moments without being overly ostentatious. Plus, they photographed so well! I will certainly be visiting Amber's new shop in Doncaster soon to browse her bridal collections or even be speaking to her about creating bespoke pieces for my own wedding!
Amber also makes the most amazing bridal veils in a multitude of colours, shapes and with a huge catalogue of potential added decorations. Plus, all of her work is waste-free and ethical. You check out tonnes of photos of these at @quinlancouturebridal on Instagram as obviously I wasn't wearing one of these creations during this shoot. Instead, I was modelling the stunning hairstyle that the hairstylist, Mazz from @mazz_loxton_hairandmakeup on Instagram, created to tie in with the overall aesthetics of the shoot.
The hairstylist and make-up artist, Mazz at https://www.mazzloxton.com, was one of the first suppliers I spoke to on the day. Again, I cannot emphasise enough how welcoming every single one of the vendors were! As soon as I wheeled in the room, with slight nervous butterflies despite my confident and extroverted exterior, I was greeted by a huge smile from Mazz. Something that really helped with those initial nerves was how clear she was throughout the beautifying process! I haven't actually ever had my hair styled in a formal way by a stylist since I grew up through many many years of awkward frizzy hair and then, as an adult, learnt vaguely how to style my hair myself. However, it was such a relaxing experience having my hair styled and I will certainly be having it styled again!

Mazz was so creative with her hairstyle between the delicately woven curls and the boho shiny glitter additions! To me, this hairstyle certainly exemplified the free-spirited, modern boho vibe that the styled shoot was trying to achieve. I loved how my hair flowed naturally and wasn't forced into a highly manufactured, tight up-do which certainly isn't my usual style! The style held up really well throughout the day in despite of the windy British weather and my movements such as Richard spinning me around in his arms.
I was thrilled to see how careful Mazz was being with the COVID-19 restrictions at the time which meant she wore a mask and visor whilst styling and, sadly, she also wasn't allowed to do my makeup. Although I can't comment on Mazz' makeup from my own experience, her website is filled with vibrant photos of stunning looks. I think Mazz' style seems to amplify the natural beauty that each of us possesses and whilst giving an ethereal glow to our natural features. If the glitter was your favourite part of my styled hairstyle then you'll be thrilled to hear that Mazz also does body-painting which is basically detailed paintings on your skin in thousands of designs. She also does face glitter designs for festivals or even as a glitter bar at your wedding! All of her products are ethical and cruelty free too!
Beyond the sparkles within Mazz's intricate design, one of the other things that really made the shoot "pop" were the stunning floral designs of Karon from the Meadows and Mulberry florists (www.meadowsandmulberry.co.uk). There was a stunning wooden arch design at the base of the mock-aisle with a variety of blooms hanging on wires. These gave such a striking array of colour and I loved the diversity with all of the different varieties and sizes of flower heads! Plus, the multicoloured flower choices on the arch backdrop toned perfectly with the purple and deep peach colours within my bouquet.
Karon designed an absolutely beautiful bouquet for me to use during the shoot; it was compact enough for me to easily carry it whilst still having control over my wheelchair but it was also large enough to add colourful boldness to the white backdrop of my stunning lace dress. I think the more gentle colours in the bouquet were perfect to fit with the natural, boho style of the shoot and they went beautifully with the wildflower meadow backdrop in the outdoor section of the shoot. Hannah and Georgi were Karon's social media interns who had recently graduated from university and they both managed to capture the general, relaxed mood of the whole shoot when they uploaded content on to everyone's media channels!
When creating these floral displays and bouquets, I loved how Karon seemed to listen to the flowers themselves – I know that sounds really pretentious for me to say but Karon really allowed the natural beauty of the blooms and foliage to come forth as opposed to sticking them in a tightly bound, forced bouquet style.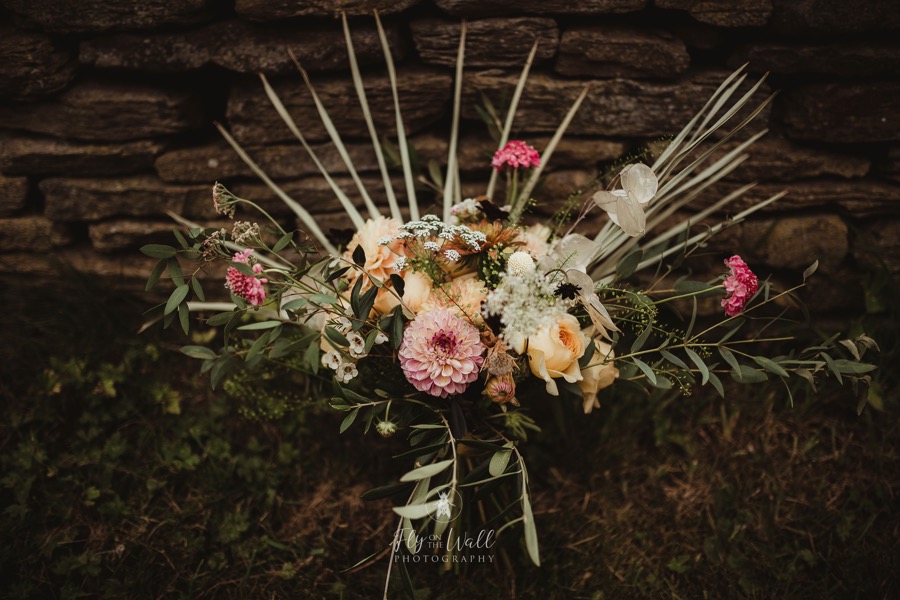 Of course, no wedding would be complete without the intricate design choices of a good stylist! The shoot used Micky from Samui Weddings (www.samuiweddings.co.uk) and she had such a wonderful attention to detail. Everything was immaculately arranged and looked like designs straight from a global bridal magazine feature! The sage green draping of the table runner added a subtle pop of natural colour, reminiscent of natural gardens and forests. I personally am an absolute sucker for candles; I find them romantic and very classy and elegant so I loved the inclusion of these. Micky was wonderful as she ensured that there was enough room between the wall and the table for my powered wheelchair to get its lock and turn into the table. She also removed the chair so I could remain in my wheelchair and this was great to see as it meant that she had designed the room to be truly aesthetically pleasing but also accessible to me!
I really believe that Micky did an amazing job as her decorations and arrangements were not overworked and forced but all were linked with the appearance of fluidity with beautiful natural elements. Richard and I were already leaning towards having charger plates at our own wedding (the fancy plates that sit underneath the crockery that is actually used) but these beautiful gold ones really sealed the deal for us; they really elevated the decor and made the display seem unique and special. I also particularly liked how the florals on the menu cards tied in beautifully with the natural florals of the decor.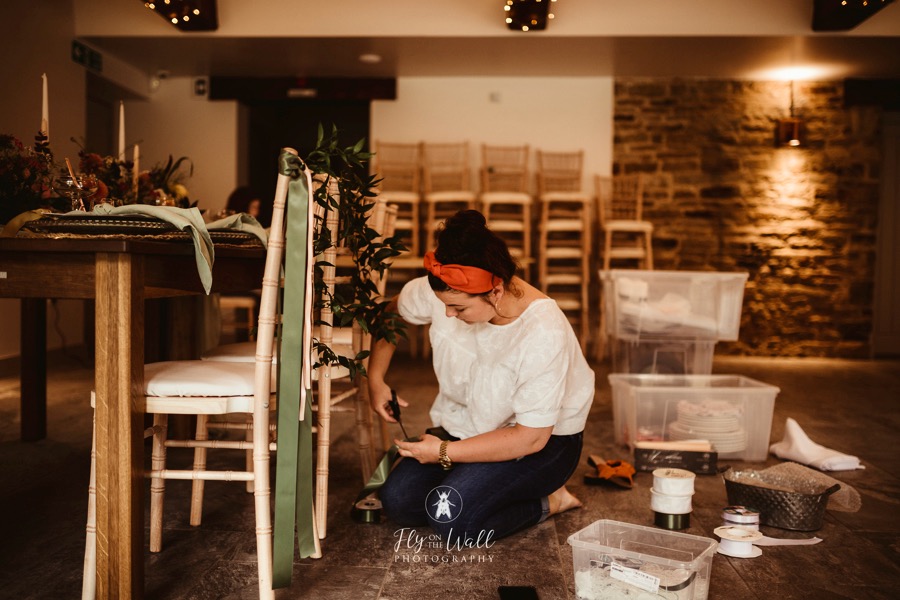 The wedding stationery such as the invitations, menu cards and name cards were all designed by Grace at Wildwood Paper (www.wildwood-paper.co.uk). If you walked around in her imagination, your breath would be taken away by bright colours and her understanding of the minutiae; those tiny details that make her floral designs so accurate. These boho, dazzling prints would certainly be saved from the recycling bin when your guests received them! You could immediately understand the quality of the paper and all of the hard work that went into the design of these.
I'm a sucker for pretty invitations to any event as I think they set the tone for the upcoming event and allow guests to get excited! I love invitations that reflect the theme or colour scheme of the event rather than box standard white cards. I want to know you as a couple and know your colour scheme or theme through your invitations! I'd love our invites to be as beautiful and intricate as these alongside obviously being informative to guests as they read the text details.
Last, but not least, you cannot possibly have a wedding without dessert! Nicky was our wonderful baker and cake designer (https://www.facebook.com/NickysSecretCakeClub/?fref=ts) and she created a true masterpiece! I loved the bright florals on the cake as, not only were they edible, they added beautiful pops of colour to fit in with the botanical, boho theme of the whole shoot. I liked the natural wood slab base and thought the simplicity of the top layer was lovely. Flowers all the way up each tier would look overly fussy so just decorating the base tier in this way was ideal!
I didn't unfortunately get to try the cake as it was being used for a shoot that afternoon but I have been assured by the other suppliers and next model couple that it was delicious!
Now I've spoken about all of the wonderful people that made our day perfect, I will absolutely "dish the dirt" on our perfect proposal! So we are in amidst COVID1-9 social distancing measures in the UK. I have been shielding due to multiple health conditions placing me in an at-risk group so I honestly didn't expect a proposal with all of the chaos removing any opportunity to visit a restaurant or spend a day outside. Richard did absolutely amazingly here as he managed to pull off a memorable, wonderful proposal whilst keeping me safe and socially distant!
At the end of our bridal photoshoot, we were asked to wheel across a grassy area that overlooked a picturesque scene of Sheffield from afar. I was told that we would wheel across there and share a final kiss to be photographed and then it would be "a wrap" and the shoot was completed. Richard, however, absolutely had other plans! Towards the end of our short wheel, he gave me a very romantic speech and bent down onto one knee. I was thoroughly thrilled and could barely contain my ecstatic reaction.

Richard and I have been together for around nine years and I've known I wanted to marry him for a very long time but my thirteen health conditions have always conspired to make an engagement absolutely impossible. Unfortunately, with that many health conditions, I find that I am consistently flaring with something or other. However, the fact that my health is always in turmoil has only solidified the surety that I want to marry Richard. We always joke that we've already ticked off the "in sickness" part of the "in sickness and in health" wedding vows. Richard is one of my greatest supports and my best friend. Despite our difference in personality types, we balance each other out perfectly and truly make a great team.
Wedding planning is now underway but COVID-19 might make things very complicated when factored in alongside my unstable health. Our current dream is to get married in August of 2021 and we have reserved a date in an iconic, historic local church that we actually visited on a first date. Our magical story has only just begun and I am beyond thankful that all of the wonderful vendors detailed above got involved. Each person was an intricate part of our proposal experience and I am overjoyed that we get to remember all of their hard work through the photos and videos to keep for posterity.

I plan on writing a series on accessible wedding planning as our own story develops so please subscribe to the blog if you haven't already. Blog creation may be slow at the minute as my health is unfortunately severely impacting my work at the moment.

I've listed all of the vendor teams below so you can see who got involved in this perfect experience. I'd love it if you can support them by following their socials – this pandemic has hit small businesses very hard but especially those in the events and wedding industries.
Photographer: Fly on the Wall Photography
Website: https://flyonthewallphotography.co.uk
Instagram: @Flyonthewallphotography1 and @flyonthewall_wedding_photo
Email: adele@flyonthewallphotography.co.uk
Videographers: Keeley Wedding Films
Website: www.keeleyweddingfilms.com
Instagram: @keeleyfilms
Email: hello@keeleyweddingfilms.com
Venue: Sheffield Manor Lodge
Website: www.sheffieldmanorlodge.org
Instagram: @sheffieldmanorlodgeweddings
Email: hospitality@greenestate.org

Dress: Quinlan Couture Bridal
Website: www.quinlancouturebridal.co.uk
Instagram: @quinlancouturebridal
Email: info@quinlancouturebridal.co.uk

Flowers: Meadows and Mulberry
Website: www.meadowsandmulberry.co.uk
Instagram: @meadowsandmulberryweddings
Email: karon@meadowsandmulberry.co.uk

Makeup: Mazz Loxton
Website: https://www.mazzloxton.com
Instagram: @mazz_loxton_hairandmakeup
Email: mazzloxton@gmail.com

Cake: Secret Cake Club
Facebook: @nickyssecretcakeclub
Instagram: @secretcakeclub
Email: nicky@secretcakeclub.co.uk
Stylist: Samui Weddings
Website: www.samuiweddings.co.uk
Instagram: @samuivw
Email: samuivw@outlook.com
Stationery: Wild Wood Paper
Website: https://www.wildwood-paper.co.uk
Instagram: @wildwoodpaper
Email: grace@wildwood-paper.co.uk