I was kindly given these products as a PR gift from WheelsFun. As with any review I place on this blog, I will always be wholly truthful and give you full disclosure on my genuine opinions on these products so you can assess if they would be suitable for you to purchase.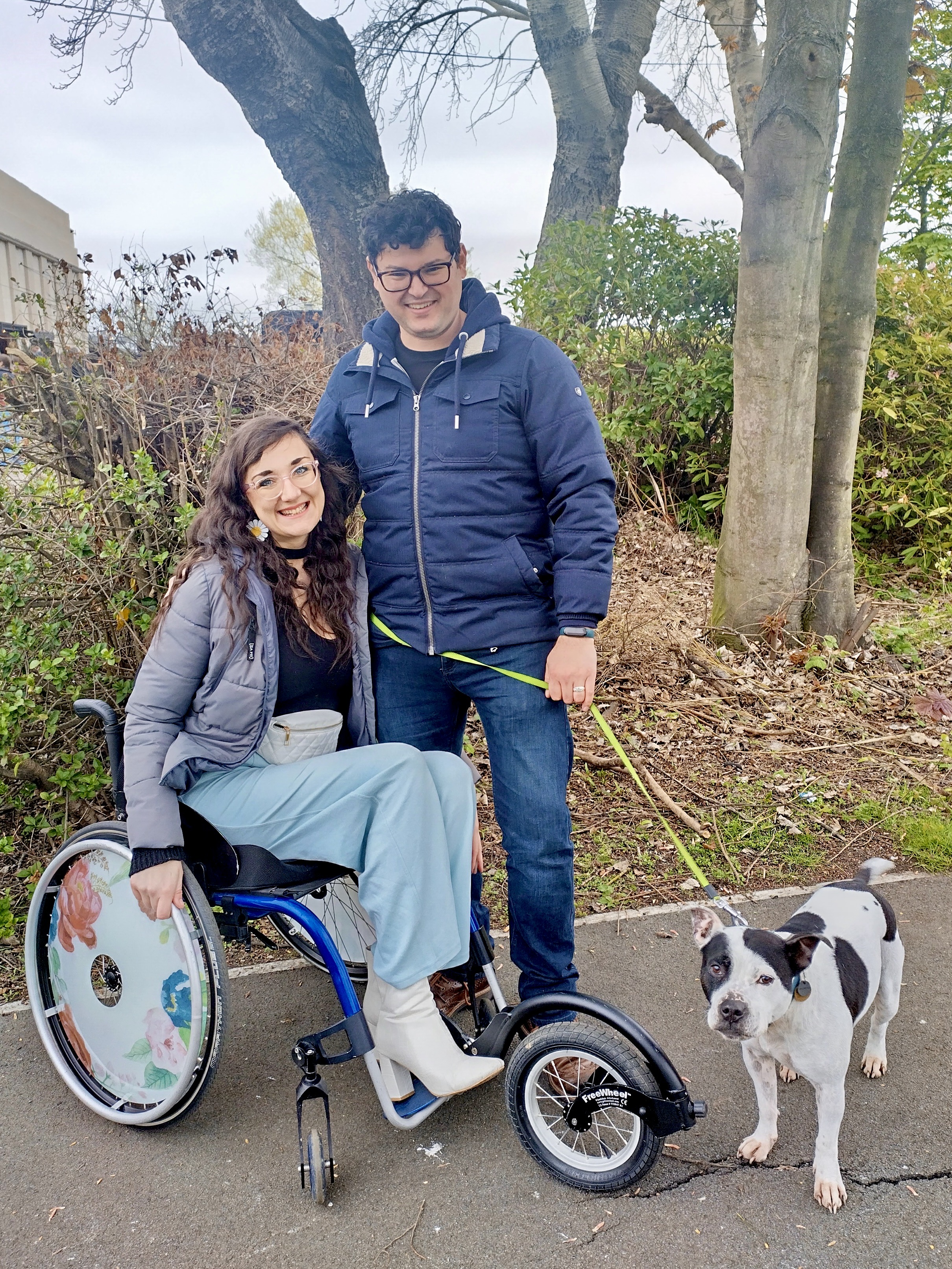 I was beyond excited when the team from WheelsFun contacted me about receiving some of their spoke guards as PR gift to decorate my wheelchair wheels with. Of course, I am a huge supporter of the concept that a mobility aid should reflect your individuality and personality. Decorations are key to this as you can personalise them to suit your outfit, occasion and even to showcase your hobbies. Plus, I find that (particularly perhaps for children or young people who use a wheelchair) decorations can take some of the fear surrounding a wheelchair away, making them seem more fun. Colourful spoke guards demystify the chair to the wheelchair user and their classmates alike. I can only imagine my pride if I wheeled up to school with spoke guards covered in unicorns or ice cream lollies! It is absolutely a way of drawing positive attention to your aid and making it your own.
So what actually is a spoke guard? These are circular panels of acrylic with a circle cut out of the centre for access to the centre of your wheels if you need to use the "quick release" function at the centre of the spokes to remove the wheels from your wheelchair frame. The WheelsFun designs are created with great ingenuity as they attach to your spokes using only three zip ties per wheel so are really easy to remove and exchange if you wanted to add a design for different situations to your daily rotations. There is also a clip option so you don't even need to use new zip ties. Both ways of attaching them to your wheels enables easy removal without any damage at all to your chair. This is particularly important if you are renting your wheelchair or have it on loan from healthcare services like the UK NHS.
Of course I love adding anything fun and personalised into my life so I was thrilled to see a huge range of designs on the WheelsFun website. Unlike other sites that seem to cater solely to younger people or children, WheelsFun have found a huge range of designs that I think would appeal to children, teenagers and adults alike. Plus, one of my favourite elements of this was that you could send in your own design and have a fully personalised design created for you! I will speak about this process some more below but this would be ideal for sports teams who all wish to show their unified logos or even brides/ grooms/ future spouses who wish to add a wreath of their colour scheme to their wheels. This opens up such a huge wealth of possibilities; from adding the crest of your favourite football club to even adding a collage of photos that mean a lot to you as a gift for a wheelchair users' birthday.
I will be mentioning their use for a wheelchair user a lot through this post as it's the area that I have lived experience in but these spoke guards actually come in a range of sizes so could even be used to personalise your bicycle!
Our first step was to measure my wheels and to look for identification on the tyre rim to showcase the dimensions. The team at WheelsFun really helped me with this process, showing me the numbers on the rubber tyre to check and also checking my measurements. Many wheelchairs have specific dimensions listed on the rubber of their tyres, such as this photo below which shows the number '24"' so you would need to order the twenty four inch diameter spoke guards. My wheelchair did not have numbers on the tyres but I messaged the WheelsFun team with photos of my tape measure on the wheels. All of my spoke guards are 24" in diameter and many of my wheelie friends have wheels of this exact diameter so it seems to be somewhat of a standard dimension for an adult wheelchair, whether it has an active rigid frame design or is a standard collapsible manual wheelchair.
The spoke guard designs come in a pair which saves you so much money as opposed to other companies that unfortunately sell the guards separately or you have to buy additional component to attach them to your wheels on top of the base price. I also love how durable this particular brand is since the patterns are actually printed on the inside of the acrylic, protecting this from the scratching and general wear you would get as you use your wheelchair if the prints were on the outside surface.
The WheelsFun website seems to have a huge variety of designs but also include seasonal variations such as when the Christmas and winter designs come out. These would be a perfect festive gift and one of the sets that I ordered was with the winter season in mind.
I chose a personalised design for the "winter wreath" and I used free editing software like Canva to design this wreath myself. There are a team of graphic designers at WheelsFun though so you could easily just give them detailed suggestions about what your design should look like. The team also sent me images across to show how the designs would look on a rounded wheel so I was able to check everything prior to printing and posting.
My "winter wreath" was designed with the foliage and berries in mind of the winter season. The green and red tones absolutely give a Christmas vibe without being overly juvenile or themed.
My
first outing with this phenomenal set of wheels was to our theatre in Sheffield to see the musical, Sister Act. I definitely felt like this is a smart accessory to add to my rotation of different decorations for my mobility aids. I will probably wear these for the whole winter season to give a pop of colour to my winter outfits as the real-life foliage starts to die down and turn brown.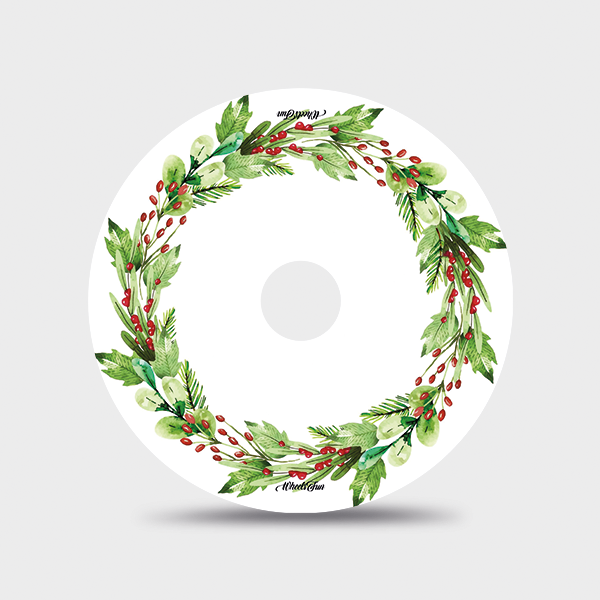 I was also pleased to see that this set co-ordinated with the bright blue of my wheelchair without adding too many colours to the mix. I think these would be perfect as well for a winter wedding or even to wear to a specific large event like a New Year's Eve party. You could choose from the existing designs or even get a matching design with one of your best friends for a specific event or Christmas present if you celebrate that!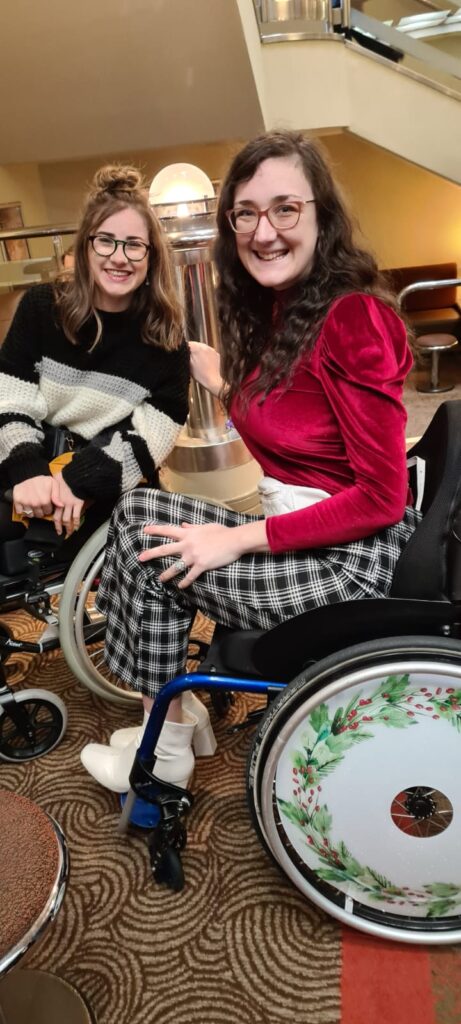 My next set of wheel covers were already in the loaded on the WheelsFun website so had been previously designed by their team. This is the design titled 'Abstraction in Shades of Blue and Purple'. It is a beautiful marbled form of purple, blue and gold tones with the veins running throughout the wheel cover. I love the bright pop of colour that this particular design gives and it really suits my blue wheelchair frame, bringing out all of the co- ordinating bright colours.
I've attached a screenshot of this design below from the WheelsFun website but prices are only correct at time of publication (mid-2023).
This set of wheel covers was worn around a local theme park called Alton Towers. I can't ride all of the rides due to where my spinal cord nerve pain is located but it was such a fun day trip anyway with my parents and husband! I used my Freewheel on the front of my chair to lift my front casters up in the air and smooth out the bumps in terrain. All of this equipment worked really well with having the spoke covers over my rear wheels.
The terrain at the theme park was muddy at times so I felt really happy to have the spoke guards on. The sheet of acrylic meant my husband could wipe them down with soapy water when we got home to clean off the mud rather than having to clean each individual spoke of my wheels.
I loved the colours in this design as they slightly merged as I moved, creating a spectrum of beautiful colours. I got so many compliments from other wheelchair users and non-disabled customers alike!
My next set of spoke covers were really meaningful to me as they are actually a printed version of a painting that I completed for our wedding invitations when I married my husband in May 2022. I spent hours designing these floral watercolour designs to suit our colour scheme. We placed this design on our invitations, menus and even on thank you stickers to add to our wedding favours.
Since our wedding is now over, this seems a really beautiful way to preserve this piece of art that I spent ages creating for this huge life event. To go through this process, I scanned the A4 sized painting into the computer and sent the highest resolution format of this I could to the WheelsFun team. The graphic designers then modified this and changed the shape from a rectangular A4 size to a circular design which was enlarged to suit my 24" wheel covers without pixelation.
I think this is another perfect example of ways that you can personalise your chair to suit your personality but also to immortalise something important to you. A really fun idea would be a photo collage across the wheels of people or moments that are important to you or even a collection of different sports team logos if you are a sports fan.
The print quality was exceptional and I was so pleasantly surprised to see how this print turned out, especially since it had originated from an A4 sized watercolour painting.
This fantastic quality of course continued to my final pair of spoke guards. This pair was inspired by one of my best friends' wedding colour scheme. I designed a wreath within free online editing software again to suit the colours and flower choices I made. This was a simple process but, again, the graphic designers at WheelsFun could absolutely do this for you.
I chose these wreaths in particular as Richard and I regularly do wedding modelling in styled shoots. This is where we model as a "fake" bride and groom who pose as if they are getting married so that suppliers can show off their beautiful creations in a less hectic environment than an actual wedding can be. For example, a bakery might create a cake especially to suit the moodboard and theme so we may model with the cake, pretending to be a newlywed couple in their wedding attire. This will give them more opportunity to get photos they like and can use for their website or social media channels.
A fantastic use of WheelsFun personalised spoke guards would be to place floral decor to suit your upcoming wedding theme or even to create a "wow" moment for your evening wedding reception change of outfit. For example, an image of multicoloured fireworks or a glitter effect would suit the party atmosphere of a wedding in the evening and would make the mobility aid suit the theme and grandeur of that huge life moment.
We have already been married but, to be honest, I really don't need an excuse to wear these wonderful and unique spoke guards. I have managed to get one for every season and occasion so I can interchange them regularly to suit my outfit and the event I am attending. Mobility aids are some of the most freeing, helpful devices that I use in my daily life. Wheelchairs allow me to explore the world around me and gain a huge variety of experiences that I otherwise would have missed out on. I am very proud of my wheelchair and identity as a disabled woman so these spoke guards help me show this whilst also showcasing the dynamism of my personality.
You change your shoes to suit your outfit, why couldn't we change our wheelchair spoke guards to complete our style? These spoke guards not only protect my wheelchair, they do it in such an aesthetically pleasing way that definitely suits my personality and the role we do as bridal models.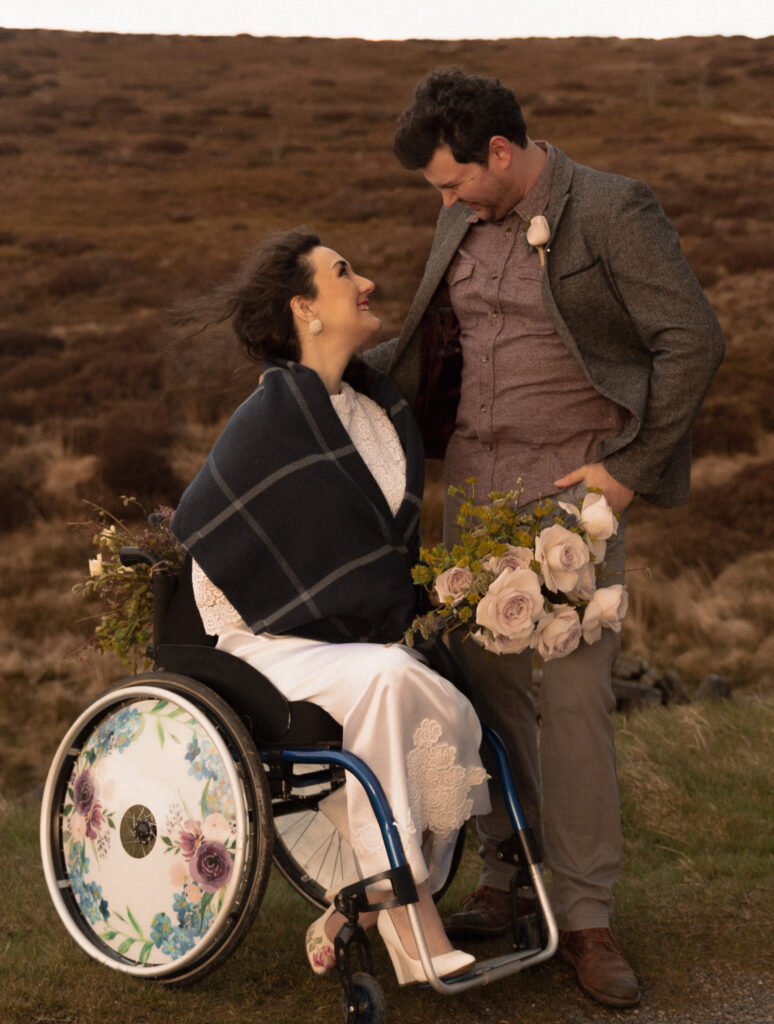 The quality of these products was fantastic and I think they will last a long time. It is a proper print on the interior and not a vinyl sticker that may peel off in rainy weather conditions. The attachments were very easy and I could swap between wheel designs very quickly if needed.
The team were very helpful, particularly when helping me decide which sizing I required and when designing my personalised spoke guard sets. Overall, I have been very impressed with WheelsFun and their products. I will certainly be buying these in the future for any upcoming special events. I might even design a Halloween/ spooky set or perhaps a set of spoke guards specifically for my birthday!
Thank you again for the PR gift WheelsFun, I love them and will continue to use these consistently!