Richard and I were kindly invited to stay in Ye Olde Bell Hotel & Spa as a PR gift. As with any review I place on this blog, I will always be wholly truthful and give you any information I can so you can assess whether this would be the perfect place for you to travel to in the future.
Ye Olde Bell Hotel & Spa is located in Barnby Moor which Richard and I found to be a fantastic location; it was only 25 minutes from the bustling city of Doncaster but was situated in stunning countryside and was only a short drive to the historic city of Retford. Retford has a regular market with a multitude of stalls but also has a treasure trove of charity shops alongside many conventional high street stores. I found my wheelchair could access the city centre very well so it might be worth hopping over there after your stay.
I loved the location of the hotel, particularly as it had a wide and open car park with multiple disabled car parking spaces. These were wider than the conventional parking spaces and gave room for transferring out o your vehicle and using a mobility aid if required. We found that there was plentiful parking, right by the hotel and also directly outside the spa complex. 
The spa complex is absolutely massive and boasts a separate building to the hotel itself. The hotel has the aura of welcoming warmth with its historic period features and antique decor whilst the spa itself had a sleek modernity since it is a far newer building. The whole spa building felt very sophisticated, as if you were in an exclusive bubble of relaxation away from the hubbub of modern life. I will be writing a whole separate blog post on the accessible spa and the two-course lunch that Richard and I enjoyed. This will allow me to write in detail all about the wide array of thermal experiences and pools that the spa boasted and also to showcase all the details of how easy I found it to wheel around in my manual wheelchair throughout our day there. There was a well-equipped disabled changing room within the spa and every doorway was wide enough for my wheelchair to enter, including the doorways to the eleven thermal experiences such as the sauna, steam room and salt inhalation relaxation suites. The surfaces were tiled and smooth for self-propelling and there was plenty of space between loungers and sofa beds for me to navigate easily. Within the complex, there were two accessible bathrooms and these each had easy reach to handrails for transferring. The shower wet-room bathroom also included a shower seat wheelchair and walking zimmer frame which I loved to see! More details of the whole experience can be found in my next post, specifically about the spa and lunch experiences, but I found it to be so accessible throughout the building. I really loved the contrast of fresh modernity that this building had in comparison with the classical decor that the hotel buildings had.
The hotel itself is a historic building which was built in the mid 17th Century so boasts many antique furniture pieces alongside beautifully styled historic suites upstairs in the main hotel building. You can see more images of these on the website but these look very luxurious with many having canopied or four poster beds and sumptuous period decor. I couldn't visit these rooms since they were only accessible by a gorgeous wooden staircase with countryside sports murals decorating the walls. There are many steps to enter this area but it would absolutely be worth upgrading your stay if you don't have any mobility concerns. I would particularly recommend these suites for newlywed couples or those who are visiting as a special occasion or honeymoon. I will pop some details below about Ye Olde Bell's wedding facilities and there were actually a gorgeous bride and groom staying overnight after their wedding during our stay!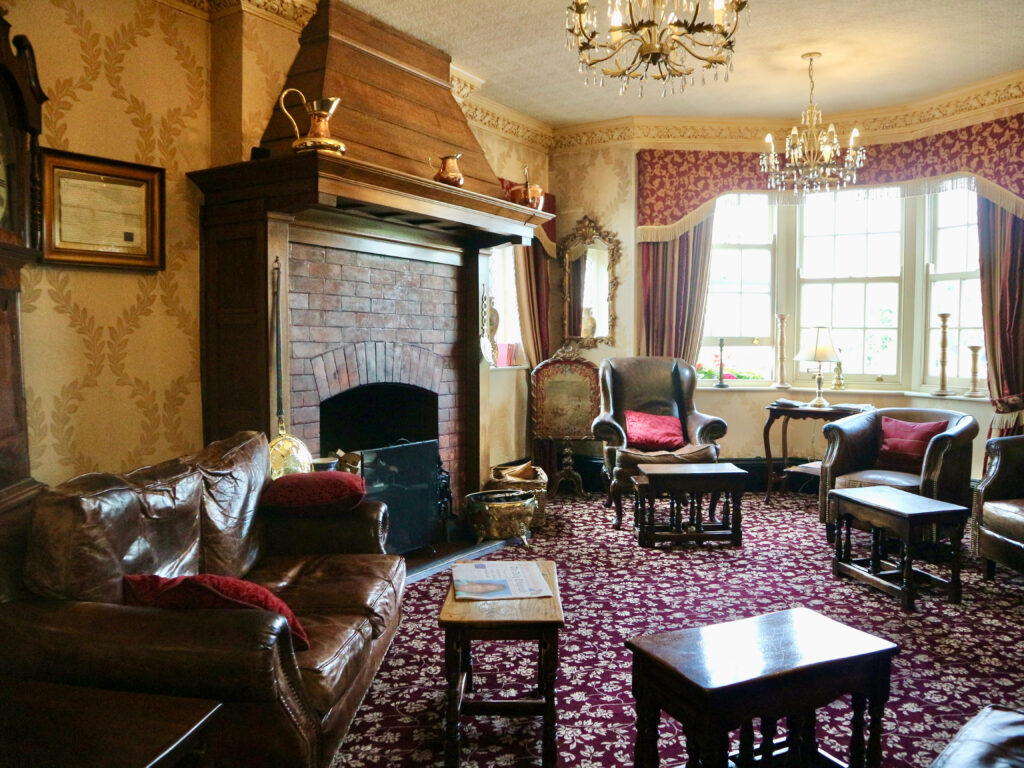 Richard and I actually stayed in one of the lodges that were outside the main hotel building since this was a listed building and therefore had no lift access to the upper bedroom floors. Our room had a wonderful wet-room area that I found really helpful to shower again before enjoying our food within the restaurant in the main hotel building. The wet-room had shower grab rails to aid transfer when moving in and out of the shower and I was pleased to see a movable shower chair so you could sit anywhere within the shower that suited you. I personally find that shower chairs that can be moved are easier to use since you can choose to be seated directly under the shower water flow or to the side if you are planning to shave or have sensory conditions that mean you flannel wash rather than being seated under the full waterfall.
The sink was lowered so I could easily reach this from the height of my wheelchair and I could see into the mirror from my seated position too. The toilet had plenty of easily reachable grab rails to help with transferring and it also had a movable side rail that could be in an upright position if you needed to do a side transfer onto the toilet seat, or it could be placed down if you wanted to use the rail to help you stand at the front of the toilet. I would recommend that the hotel move the sanitary bin to easy reach from a seated position on the toilet for those that use mobility aids. I also would have loved to see the red pull cord to be long enough to reach the floor. These need to fully reach the floor so somebody could pull them and raise the alarm if they have fallen to the floor in a medical emergency. There was a red pull cord in the room itself and the staff unhooked this when showing us into our room, presumably this is hooked up for cleaning or when the room is sold as a standard abled bedroom. When unhooked, this cord was easily reachable from floor height but did not fully reach the ground.
The entrance to the room itself had a wide enough doorway for my wheelchair to enter easily. There was a small lip on the lodge doorway from the outside but it was easily navigable in my manual wheelchair. We moved the doormat to one side as it made that access much easier but this depends on the type of wheelchair you use or if you have any mobility concerns at all. 
The king-sized bed mattress was comfy and supportive; it had a summer duvet on the top. When we stayed, we were in the middle of a huge heatwave in the UK so this made our accessible spa day even nicer as we could sunbathe in the outdoor area and use the pool area that extended to the outside. The sunny weather did make our room rather hot without air conditioning but the hotel staff had kindly left us a fan to plug in and use overnight. Sleeping with the windows open was absolutely essential in the heat as it was over thirty degrees celsius on that day! We did experience some background noise since wedding guests were arriving and drinking late into the night outdoors but this was to be expected since they were having a great time.
Within the room, there was a large wardrobe with around ten coat hangers inside and there was a hairdryer located within one of the drawers. There was no ironing board/ iron but I imagine you can ask at reception for these if you needed them. The staff were so friendly and helpful to us throughout our stay so I'm sure they would oblige if you needed this. There was also a kettle with tea, coffee and hot chocolate making facilities and a bottle of sparkling and still water on the bedside. These provisions were great, especially since I have a PEGJ feeding tube and therefore require sterile water (boiled kettle water). The main problem we had with the room is that, due to the generous size of the bed, I could not access the wardrobe, kettle or left-hand side of the bed since my wheelchair would not fit between the wall and bed. Richard is abled and did move the bed across as far as it would go but I still could not wheel through. If you were fully mobile or an ambulatory wheelchair user then this would be no problem at all but it is definitely worth noting that around half of the room was not accessible to me. I could easily access the entrance to the room, my side of the bed, a worktop with mirror, the television and television remotes, the phone and the full bathroom but you would need to be travelling with an abled companion to grab you a cuppa.
There was a disabled parking bay right outside of our room's entrance so it was easy to pop any suitcases into the room and it was a short wheel to the restaurant and bar which is located in the main historic hotel building. Within the restaurant and bar, there is an outdoor area with a covering so you could sit outside and admire the beautiful countryside views whilst sipping on a drink and you were also sheltered from wind and rain. We personally chose to sit inside the main restaurant area as I absolutely loved the decor in there. There were antique wooden chairs, candelabras and paintings dotted around the room to depict some of the fantastic past moments that the hotel has experienced. We were seated by a portrait of a stage coach which is a horse-drawn carriage that used to run up and down England to deliver parcels and letters. Ye Olde Bell is situated on the main road from London to Edinburgh so they housed many travellers in the 17th Century who were undertaking the voyage up and down the country. I also loved a snippet of information about the Bradgate Suite (we'll show you pictures of this further into the article as it would be a fantastic wedding venue); this Suite has stunning oak panelling on each of the walls and these panels are originally from the stately home, Bradgate House, in Leicestershire. What piqued my interest was that, beyond these looking aesthetically pleasing when framing the room, Bradgate House was the home of Lady Jane Grey who was queen in England for only nine days before she was unfortunately executed by Queen Mary. According to the staff and past visitors of the hotel, Lady Jane's ghost can occasionally play mischievous pranks within this particular Suite such as flickering the lights or turning them off entirely. Her presence can supposedly be felt with an unusual bodily feeling in the Bradgate Suite at times but spa staff also mention that she has changed the colours of the outdoor lighting at night when the spa is closed. I love this historical reference and the echoes it seems to have placed into the contemporary times!
The history certainly had great depth in the hotel and the decor seemed to have a very welcoming and homely effect. Within the restaurant, there was a fully stocked bar and the staff were really knowledgable on different wines and beers. Richard even tried a pint of Ye Olde Bell beer which was a refreshing pale ale brewed locally. I personally stuck to the house rosé wine which was light and sweet on such a hot sunny day.
We had a three course meal and our waitress was so lovely, giving us any information we asked for to choose our options and chatting about the hotel's history. For our starter, Richard chose the crayfish and crevette romaine lettuce cocktail with a bloody mary dressing and puréed avocado. This came alongside granary bread & butter and was served in a martini glass. The crayfish itself was absolutely huge and both of the seafood additions were fresh and plentiful. Richard really enjoyed the fact that the dressing was designed to parallel the tastes of a bloody mary since the tomato undertones of this really complemented the crustaceans. I personally chose the platter of freshly baked sourdough bread which was served alongside cocktail olives and a small pot of virgin olive oil which had been drizzled with aged balsamic vinegar. The bread was thickly cut and was already drizzled with a garlic oil so was delectably smooth when eating this. I loved this hearty starter as it could also be a sharing platter for a more social meal. 
There were so many choices for the main course but we both selected different dishes to sample the range of cuisine offered here. Richard chose the curry of the day which was Sri Lankan beef served with basmati rice, an onion bhaji, toasted naan bread, papadums, chutneys & pickles. This was a huge portion of food to satisfy any hunger and the curry was a delightful balance of authentic spices so it was not overbearingly spicy yet had a great depth of flavour. Richard really enjoyed that there were so many side dishes in this platter so he could sample different aspects of the palette. I chose the harissa spiced lamb rump which included plenty of sliced lamb on top of a tabouleh salad. If you are like me and are unfamiliar with Mediterranean cuisine terminology, this is a bulgur wheat dish with finely chopped parsley, tomatoes, mint and onion, alongside a dressing of olive oil, lemon juice, salt and sweet pepper. The restaurant at Ye Olde Bell also served their tabouleh with sumac spicing, chorizo sausage, pomegranate, honey roasted carrots and a smoked paprika creme. This was such a fantastic dish as it was a real change from the cuisine that Richard and I often experience when we travel. I loved that it had a refreshing bulgur wheat salad at the base, suiting the humid weather, but also was really filling with the rich, juicy lamb and chorizo sausages. These were the perfect dishes after a relaxing in the opulence of the spa all day.
For our dessert, Richard chose the mango and passionfruit cheesecake which was served with a tropical fruit sorbet and fruit purée. This was a really generous portion and the cheesecake was creamy and light, really suiting the rich tropical flavours that it was paired with. My personal choice was the treacle tart with clotted cream icecream and strawberry purée. This delectable dessert was really filling and balanced lavish presentation with traditional flavour palettes.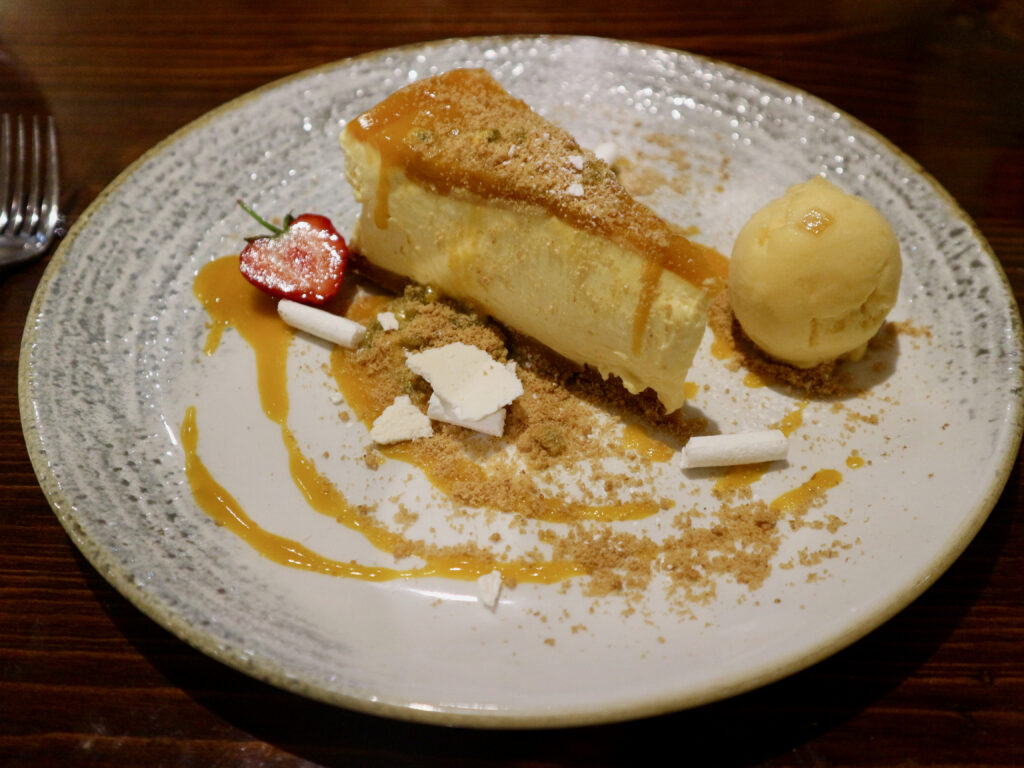 Overall, both of us were really impressed with the quality of the food at the restaurant and how friendly the staff were. Being surrounded by antique decor gave the room an elevated atmosphere but it felt very welcoming too. The meat was of high quality and you could tell that the catering staff had taken a lot of time to balance flavours and create these dishes, including working out how to present the beautiful dishes on the plate. The whole experience here was lovely and we really enjoyed eating within this restaurant.
The hotel had carpeted floor which gave some degree of resistance when I self-propelled but this also added to the historic abundance of the decor. There was an accessible toilet within a very short wheel from the restaurant itself. This had two sturdy grab rails to aid when transferring onto the toilet, the sanitary bin was within easy reach of the toilet and there was a nappy bin for the baby-changing facilities. The room had plenty of space for me to enter in my manual chair and also spin my chair fully in order to exit facing forwards. Again, the red pull cord was hooked on the wall and didn't reach the ground when unhooked so I would recommend that the hotel extend this. The sink was a perfect height though and there was a beautifully designed gold mirror which I could easily see into from my seated height. I would also recommend that they add a can of air fresher to the room for use when nappies are changed or those with gastric conditions use this area. This bathroom was also a short wheel from the room that we had breakfast in, just through the bar area in the Nielson Suite which seats up to 120 people.
After staying overnight, we journeyed across back into the main hotel building to have our breakfast. This had real atmosphere and was a lovely social experience since lots of the wedding guests arrived shortly after us (the picture is of the breakfast dining room prior to this). The waiting staff were really helpful and removed a dining chair so my wheelchair could pull into the table we were seated at. They gave us a menu and served us fresh tea and coffee. We could help ourselves to the continental buffet and fruit juices while we waited a very short time for our hot breakfast dishes to be served. On the continental buffet there were fruit juices (apple, cranberry and orange), yoghurt pots, natural yoghurt, a selection of pastries (cinnamon swirls, croissants, almond custard danishes and apricot jam danishes), fresh fruit, pre-cut fruit, fruit compotes, cereals with milk and a selection of salami, cheese and sliced baguette. You can see all of these options on the photos below and all food was plentiful and freshly laid out by staff. You would have to ask staff for dairy-free milk and for allergens/ dietary requirements as these were not labelled on the table but the menu does mention that staff are knowledgable about this.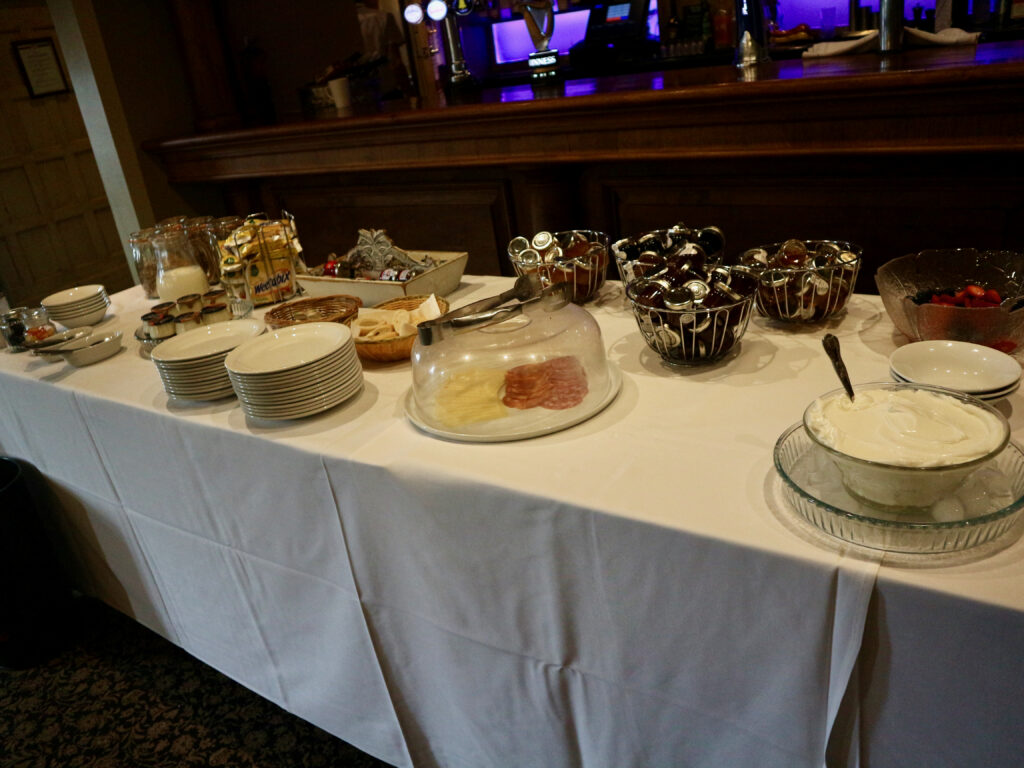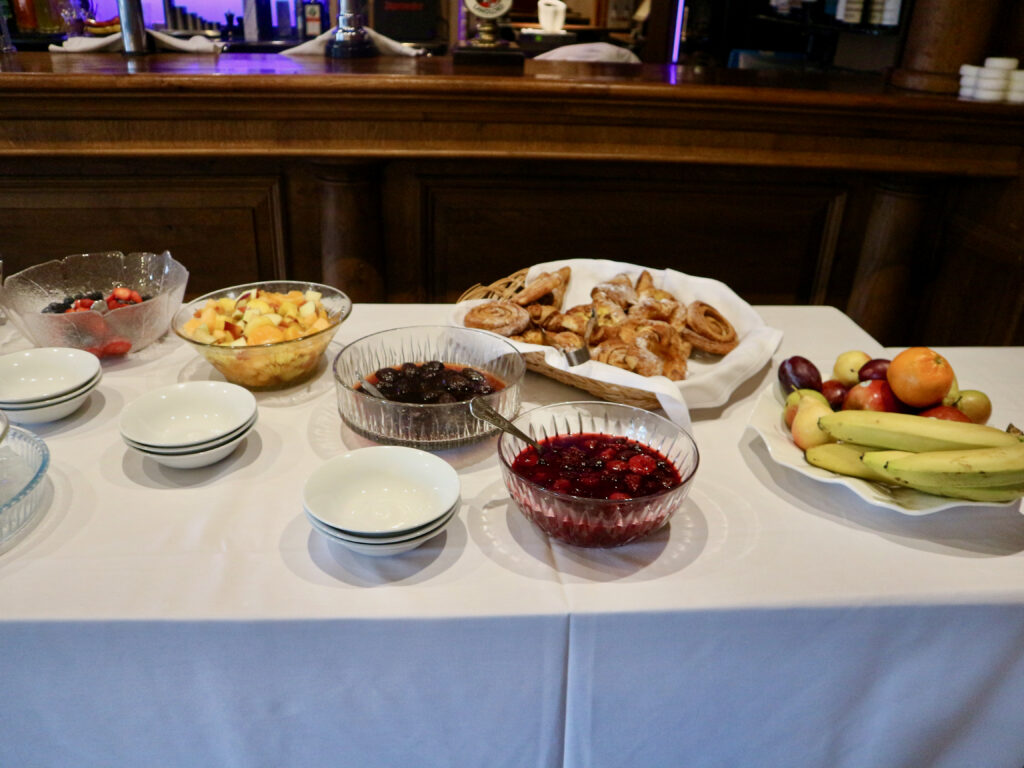 We chose different hot dishes for our breakfast options. Richard had the traditional Full English breakfast which was plated up with a local sausage, a rasher of smoked back bacon, a halved grill tomato, baked beans, mushrooms, a hash brown and a hash brown. This came with a choice of eggs; poached, fried or scrambled, of which Richard chose poached. All of the food was piping hot and the meat was clearly of a high quality here. I chose the American style pancakes with maple syrup and asked the kind waitress to also add the smoked back bacon here as I love the contrast of salty and sweet flavour palettes. These were light, fluffy pancakes and the sugar rush was just what I needed to start my day with a positive boost.
The room was classically decorated with candelabra lights and large, eye-catching gold mirrors. I loved the wooden panelling to the room and it felt very traditional within such a beautiful setting. As mentioned, the toilet (pictured earlier) was only a short distance away to wheel or walk.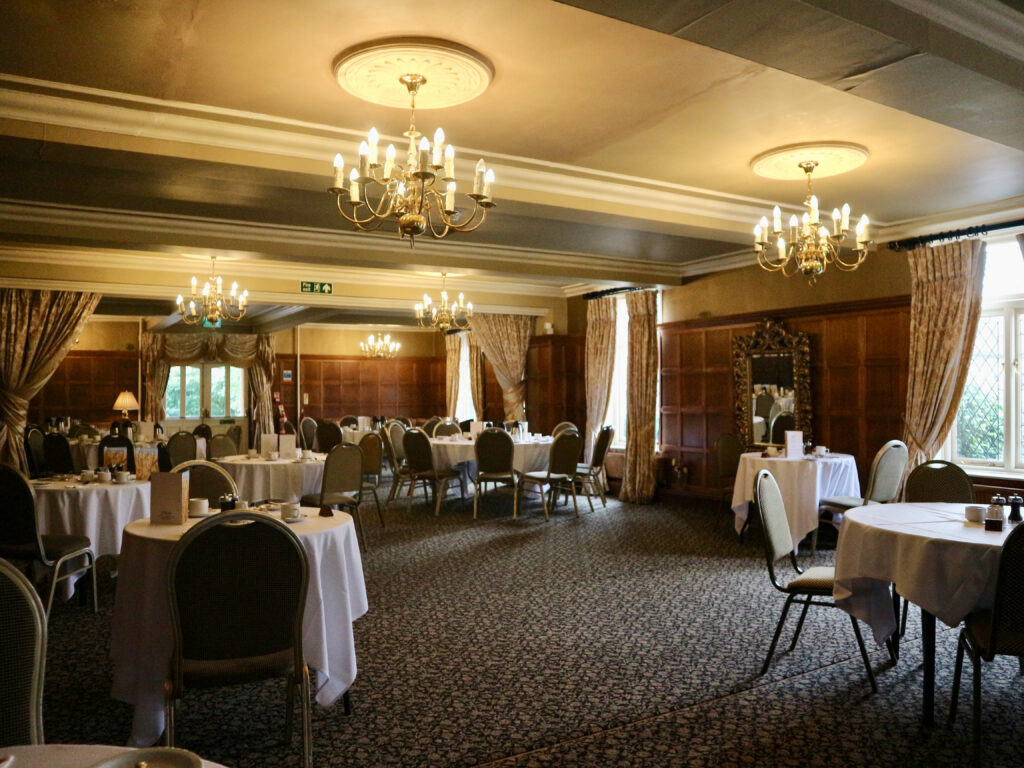 After breakfast, we checked out with Jenny at reception who was a lovely lady who chatted to us throughout our stay and recommended local places to visit. We were journeying into Retford for the day soon but we chose to have a walk around the ground floor of the main building of the hotel first and to see the gardens. We wanted to see the infamous Bradgate Suite which actually was a beautiful space to have a wedding! This was light and richly decorated with bright red tones to suit the candelabras and white tablecloths. The whole room had an aura of formal opulence so would be really suitable for a wedding or large family event! There was even an outdoor wooden gazebo in the grounds of the hotel where you could get married and be surrounded by nature.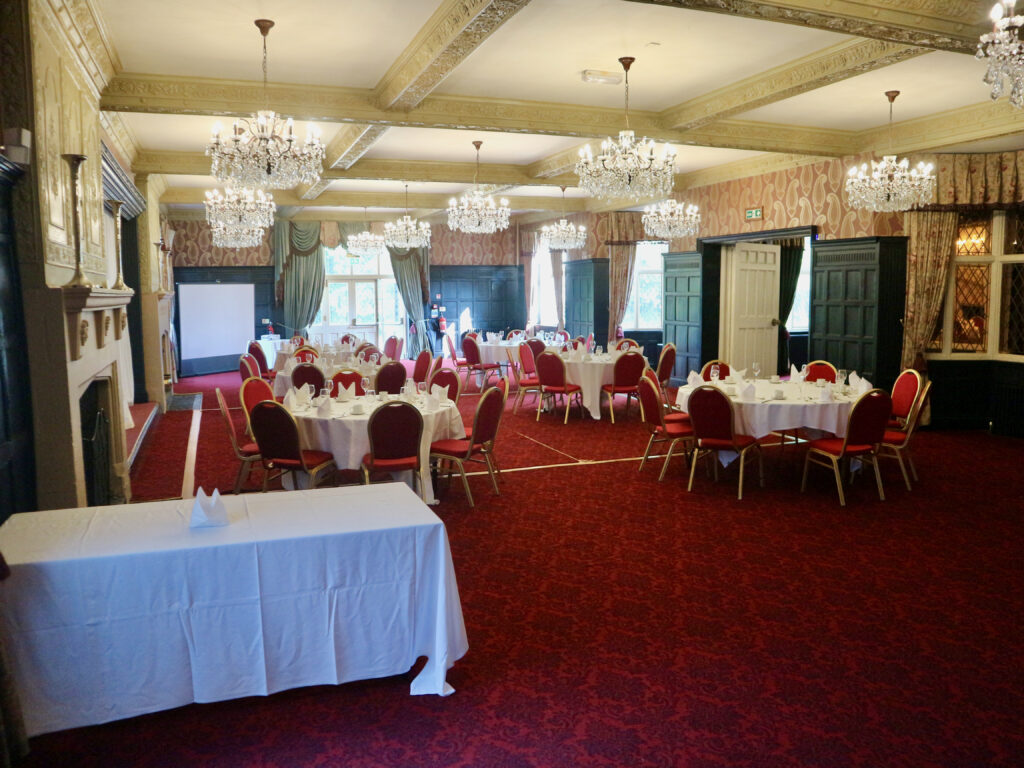 This area was really romantic as the gazebo allowed a covered wedding service away from any rain/ wind and guests were seated in rows of white wooden chairs. There were "photo opportunity" sections of the gardens such as a white heart statue and a thick rope swing where guests could take photos together. All of the gardens were evenly paved with level pathways that I could wheel around upon and the wedding service area was actually faux grass so was solid enough for my wheels to access, unlike natural grass which can get wet and too boggy for a disabled guest to access with a mobility aid. From the exterior, there is also a large canvas which gives shade and shelter to a patio area of the hotel so guests could have drinks whilst out of the harshness of the sunshine. I also saw an outdoor pizza oven and barbecue in this area and covered picnic tables dotted around the beautifully manicured lawn. I think this would be a really lovely, natural wedding venue with lots of gorgeous sites to have photos in the sunshine. I also really love venues that have availability for the wedding ceremony and the wedding reception to be all in one area as this helps limit the pain and fatigue which would be caused by travel for many disabled guests depending on their conditions.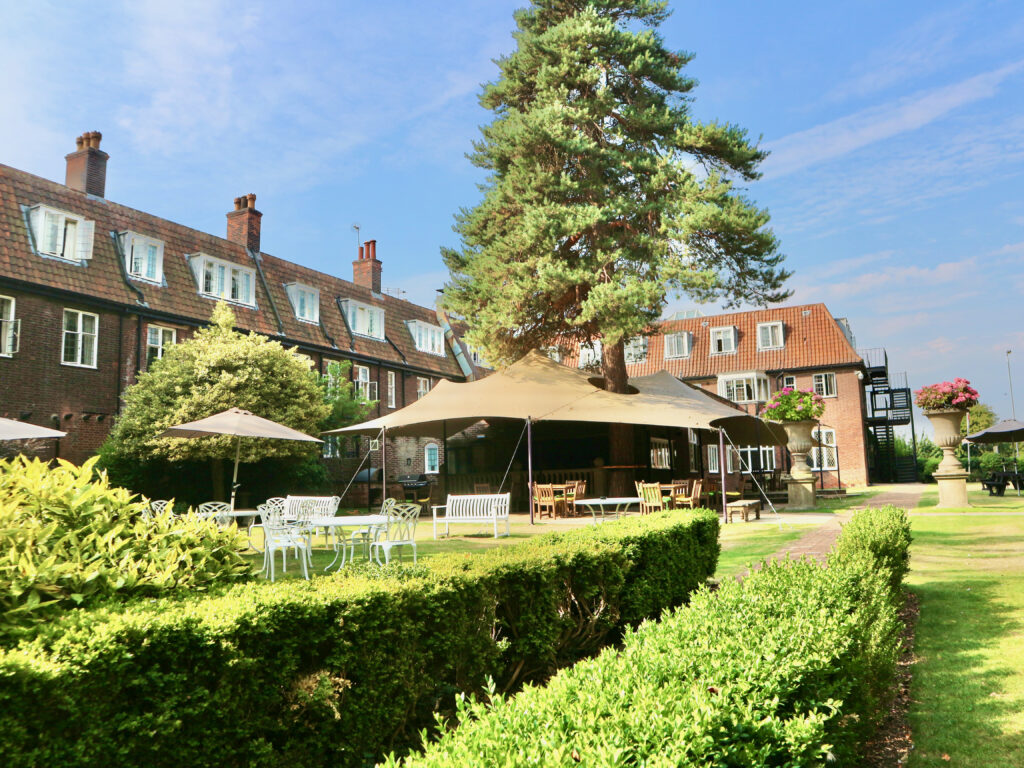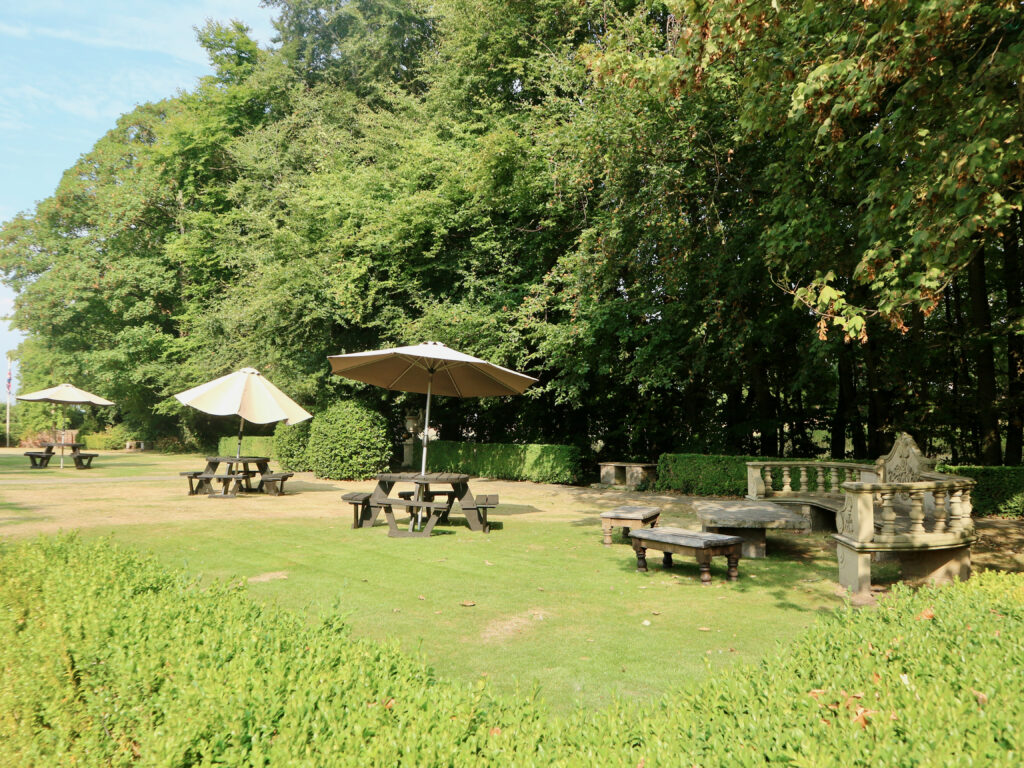 Overall, I absolutely loved my stay at Ye Olde Bell Hotel & Spa. The spa itself was fantastic and truly accessible throughout and I will write a whole post on the details of this. They had really considered disabled guests who had their own, well-stocked changing room and toilet and could enter all of the rooms in a wheelchair. I will pop a whole post together about this phenomenal experience and link it in here when completed. Our hotel room had a fantastic wet room with all of the amenities I needed to shower and go to the toilet with transfers. I could easily access half of the room and enter the room with no issues. You could enter the main hotel building very easily whilst in a wheelchair and there was an accessible bathroom within a short wheel of the breakfast and dinner dining areas. The food throughout this stay was wonderful, particularly at the two course spa lunch and at the dinner in the restaurant area. I loved the quality of the meat and also the balance of flavours during our dinner experience at the hotel. I would certainly recommend this location to anyone who would like a fully accessible day spa or anyone who is slightly mobile and wanted to stay overnight.