Hilton Cambridge City Centre invited us for an overnight PR stay at their hotel; you can read my full review on their hotel and their room facilities here. As always with any gifted item, all opinions remain accurate and true to my genuine feelings.
We were thrilled to be invited to Cambridge as it's a city that Richard and I have never actually visited together. I spent a while in a summer school in Oxford before attending university in Durham but that was before I became a full-time wheelchair user and therefore historic cities were much easier on my body. Richard and I had very much planned our days out; we had researched the fact that the accessible colleges seemed to be King's College, Clare College, Trinity College and St John's College and that the Cambridge University Botanic Gardens which were all level-access throughout. Unfortunately, our visit in November meant that not a lot of plants would thrive so we skipped the Botanic Gardens. Trinity and St John's Colleges both had events running on the days we visited. That also meant we couldn't see the Bridge of Sighs which is a very famous piece of Cambridge architecture, is fully accessible to get to, and is only 18 minutes to walk/ wheel from the Hilton Cambridge City Centre hotel. I LOVED the central location of the hotel and the fact that everything was right on our doorstep. We parked in a disabled bay with our valid Blue Badge for free for the entirety of our trip but the hotel do have a Valet service if you are staying or dining at the hotel so you can leave your car with ease for £25 for 24hrs.
In the end, Richard and I visited King's College which was really accessible with ramped access into the absolutely beautiful chapel and the Fitzwilliam Museum which had lift access, leaflets in alternative formats, smooth surfaces for propelling and verbal description/ touch tours available  upon request. I will absolutely make separate posts on all of these wonderful accessible things to do nearby the hotel and link them in here when I have created them!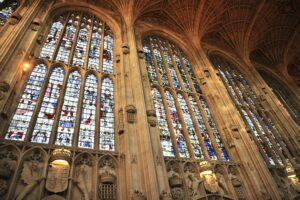 After all of this amazing exploring, on our final day we were treated to a wonderful experience in the Hilton Cambridge City Centre hotel of an afternoon tea. We were situated in the lounge bar area which had a bar (that goes without saying I suppose haha!), plenty of tables, sofas and booths. There were places to relax with complimentary newspapers or buy a drink. To get to this area, I first went into the automatic doors at street level and travelled up in a large lift to the floor where reception and the dining areas are located. The accessible rooms are also located just around the corner in this area (we reviewed these here). This area was fully level-access and the lift had a large sign beside it. The bar area entrance had a shallow ramp and the whole terrain was dense carpet that was very easy to propel on. I found there was plenty of room between the vast majority of the tables for me to wheel anywhere I wanted so I was very pleased with the free movement.
We popped to the bar to notify the staff that we had arrived and they showed us to a table. They kindly gave me the choice to transfer and then they removed the chair from the table since I chose to remain in my wheelchair. The hot drink selection was absolutely great; there was a wonderful variety of teas ranging from Lady Grey to English Breakfast or you could opt for fruit teas, coffees or hot chocolates. I went for the classic black Americano and Richard chose a hot chocolate since both of us had hands like icicles. It had actually forecast snow on this day; it hadn't snowed but the wind was SO cold that it was unreal. I really enjoyed just sitting with Richard at our little window table, watching the world go by and enjoying warming up after our  enjoyable yet freezing day.
The bathroom was a short two minute wheel from our table over very easy terrain and through open spaces. The accessible bathroom is to the righthand side of the check-in reception desk and is very easy to get to in terms of the flooring you go over and also the lack of obstacles in your way. The doors were understandably fairly heavy since they were probably fire doors but a member of the reception team kindly asked if I needed help with these. This disabled toilet was slightly compact in size for an accessible toilet but I could still manoeuvre and spin with my standard sized adult manual wheelchair; I just found it much easier to reverse when exiting the toilet rather than turning. If you required a side transfer then you might have to move the larger bin slightly to give you more space to transfer off of your wheelchair. Otherwise, the grab rails were great and plentiful, the sink was lowered and I could reach all amenities such as the soap, tissues and toilet paper. Hilton Cambridge City Centre were great throughout their building for actually having red emergency pull cords that reached the floor so a disabled person who has had a fall could reach them from floor-height so I was really impressed with that. The toilet was clean and I loved the quiet sounds of festive music in there too. We hadn't even put our Christmas tree up on December 10th as life (and my health) has been so hectic which is very unusual for us!
After wheeling back to the table, we were asked if we would like drink refills which was really pleasant! The afternoon tea arrived very shortly after and it was presented on an unusually shaped circular cake stand; I loved this as it fitted with the quirky modern decor such as the chandelier above the piano made out of upside-down wine glasses, champagne flutes and gin balloon glasses! I would have loved to see a menu of the things that we were eating or get an explanation from the waiter but Richard and I had been asked and had explained that we had no dietary requirements so there was no actual risk to us. It was a nice little surprise though to bite into some of the sweet treats and find flavoured fillings! You can ask the staff about allergens if you require this.
We had two of every sort of sandwich on the base of the tray. For the savoury choices there were smoked salmon and cucumber, cheddar cheese and tomato, chicken and mayonnaise and ham and lettuce. All of the sandwiches were really tasty; my favourite was the chicken and mayo one personally. In the middle layer, the intricacy of the decoration on the baked goods was phenomenal! The attention to detail was beautiful with gold glitter dust on the dark chocolate macarons and little chocolate leaves and stems on the jelly oranges. These were set gelatine around the outside and filled with a soft sponge, tasting tartly of citrus and a nice refreshing contrast from the decadent, rich chocolate treat of the macaron earlier! Next was my absolute favourite; it was a profiterole dusted with freeze-dried raspberry powder to give a hint of fruity vibrance and filled with a smooth custard filling! Lastly, I believe this particular mini dessert was inspired by the palette of a black forest gateaux since it had a small under-casing made of set dark chocolate. This was then filled with a mix of summer berry compote and topped with a torched soft meringue piping. This had a delightful contrast between the crunchy base and the soft top! (Don't I sound like a chef here!). The best part of an afternoon tea of course has to be the actual scones! I loved the freshly baked scones that Hilton Cambridge City Centre had, the little pots of jam and the clotted cream.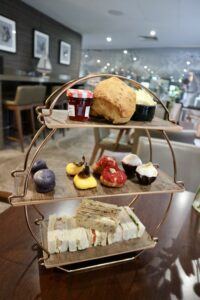 The food quality was great and it was definitely a nice light meal. I think it was pleasant to not have an overload on sugar or fullness if you are about to walk/ wheel around a city. It was so peaceful to sit and have such delicious food in a relaxed surrounding. I loved that I could get around everywhere in the hotel through its level-access and that the disabled toilet was really close to my table so I could independently propel there without worry. I would have liked to have had a little menu of our treats but I still really enjoyed the taste of every one of them. An afternoon tea is a quintessentially British pursuit and it was so lovely to enjoy such a social activity in a historic city such as Cambridge. The Hilton Cambridge City Centre is right in the centre of Cambridge too so it is very walkable from any other place within the city or is a great place to stay if you want to walk around the city and save money on taxi fares!
I definitely would recommend this as it was nice to "hit the pause button" amidst our busy day and to just spend time with my wonderful fiancé and to eat delicious food. You can book the Hilton Cambridge City Centre afternoon tea between 12pm and 5pm I believe, whether you are a hotel guest or not; at the moment it's £20 for per person. You can also add a glass of prosecco for £5 extra (125ml of Voga Prosecco or Voga Rosé Prosecco).
As a little treat meal or a gift, I would certainly return as it was a beautiful "date" with my fiancé and also a very calm refuge amidst a busy day of exploring Cambridge!