Richard and I had the absolute pleasure of being invited to the Hilton in Cambridge City Centre this November for a PR visit. As always with gifted packages, all opinions are wholly my own and  are fully genuine throughout the stay and any accessibility issues were fed back to the Manager. We also experienced an Afternoon Tea package with a full review here.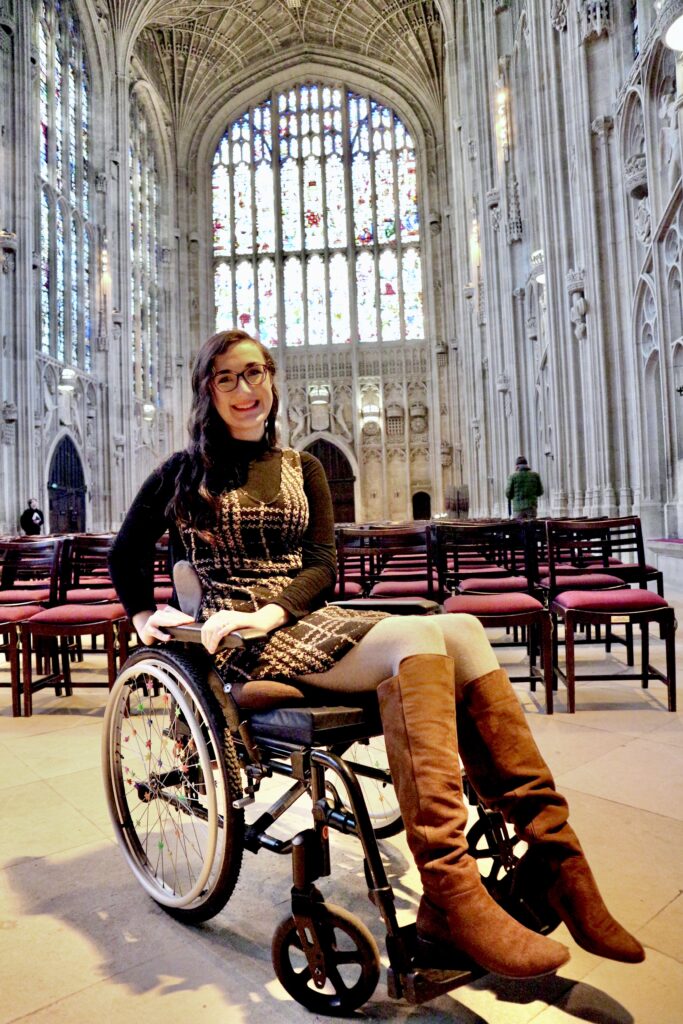 Cambridge truly exceeded my expectations both in terms of accessibility and in terms of things to see and do. Since the city is a historic centre of educational learning and excellence, I had expected to be severely limited in the places I could go with cobblestoned streets or inaccessible historic buildings. In actuality, we found that we could have spent far more than the two days we spent exploring the city centre! The places in particular that we focussed upon during our visit were Kings College, the central shopping streets within the historic centre (including the local craft market) and the Fitzwilliam Museum. I will link articles on each of these wonderful, accessible places as they are written as I intend to produce a mini-series on Accessible Cambridge! 
We had heard that other Cambridge Colleges were accessible such as Trinity, St John's and Clare but these colleges were closed due to events they were running at the time. Should we return to the city, we would absolutely take a stroll around the Cambridge University Botanic Gardens which are all level-access and have an access statement online showcasing flat or ramped surfaces with  some gravel. I also would absolutely have loved to have taken a punt boat around the river to see the Bridge of Sighs from the rover. The Bridge of Sighs is named after one in Venice where prisoners would supposedly sigh upon seeing their last view of Venice before having their sentence carried out in prison cells or executions. The bridge is visually and architecturally very dissimilar to the one in Venice but both the Cambridge and Oxford Bridges of Sighs are truly stunning pieces of stone-masonry! There are some accessible punt boats that would allow you to access the river using ramps rather than stepped access but many of the punting companies don't allow your wheelchair aboard the boat unless it folds up and you can transfer to the punt boat seat. Therefore, you would have to be somewhat ambulatory but this is still an option that I really would have loved to enjoy had the November winds not been truly frosty! Wheelchair users really do get colder when they move around less so shivering on a boat was less appealing than   the concept of revisiting this majestic city to try this out next time!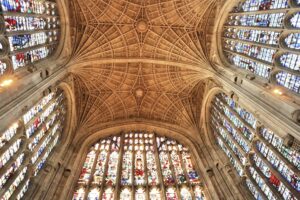 The Hilton Cambridge City Centre was an absolutely ideal base for all of this accessible exploration since it had a perfect central location. I loved that it was within a 10 minute walk/ wheel of all the places that we visited as it made it easier for us both to have the energy to explore more of what Cambridge has to offer! Richard and I drove up in our car and found a Blue Badge disabled parking bay which allowed us to park for free for an unlimited amount of time. The hotel actually offered a really handy Valet service though where you could pull in the driveway area in front of the hotel and pay for a parking attendant to park your car safely. I actually thought this was a really reasonable price at only £25 per overnight period since parking in the Cambridge Council car parks can definitely add up over the time of a hotel stay!
After parking, we walked across to the Hilton Cambridge City Centre. There were plenty of dropped curbs on the pathway outside of the hotel for me to cross the road safely without bumping the suitcases off of my lap! I also found it easy to enter the building through the large automatic doors in the centre of the   entrance doorway; these were wide and there was no lip over the entranceway. 
I loved the festive decor throughout the hotel; it definitely reminded me that I have a few more presents to buy! You can see the reindeer below up the steps and escalators which you could use if you had no mobility aids or wheeled suitcases. Otherwise, there was a lift to the left from the main doorway which travelled upwards to the main reception area where the check in desk, restaurants and rooms were. It is worth noting that this lift is the one you always have to use if you are hoping to travel back down and out of the hotel onto street level whilst there are a separate set of elevators to use for going up to other floors higher in the building.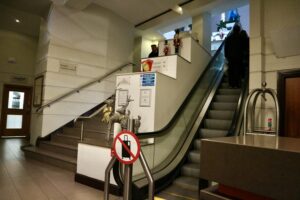 The hotel vestibule was certainly impressive; there were strands of fairy lights hanging from the high and airy ceiling, plant decor and even, surprisingly, a statue of a large blue cow from a charity statue trail that originally took place in the city centre in 2021. The cow has a witty name of "MOOOre Gin Please" since her patterns were inspired by the botanical plants that are involved in making gin. She was sponsored by the hotel as part of the 'Cows about Cambridge' trail where there were different painted cows dotted around Cambridge and funds were raised for the charity called Break. Around the bovine decoration, the hotel entrance area was wholly flat; all areas were wheelchair accessible via level-access or ramp. All of the surfaces that I wheeled over were tiled or dense carpet. There was one rug by reception which was very low lying and densely piled so I didn't struggle with my self-propelling manual wheelchair over these textures. I would say the reception is around 16 metres from the lift if you struggle with ambulatory mobility but there are seats available for guests nearby. Although I don't use it myself, there was a fixed loop hearing assistance system to the right of the desk. My check-in was really easy and the staff were really friendly and helpful (as all the staff were throughout my stay!) despite there not being a lowered check-in counter. I would suggest that the desk is around 120cm high for those that can stand for prolonged periods. When checking in to a non-lowered counter, I always prefer staff to come around from behind the desk to talk to me and hand me paperwork on a clipboard for signing and that was an area for improvement.
I must say though – the Hilton Cambridge City Centre's Christmas decorations were absolutely stunning! There was a tree beside the reception area but, luckily, it was cleverly placed so it had no access impact at all. It certainly brought the festive spirit! Whilst staying in Cambridge, we visited the famous Fitzbillies bakery and coffee shop to try some of their sweet treats. The bakery is step-free and Richard and I tried their Chelsea buns which are made from sticky, somewhat-festive dough rolled into a swirl and coated in currants, sugar and syrup! I don't believe the café itself next door has wheelchair access unless there is a portable ramp inside that the staff bring out to allow access.
After exploring Cambridge on our first day a little, we were absolutely frosty and certainly felt the need for a cup of tea in our room. Honestly, I was so glad to see the tea and coffee making facilities (along with the sneaky hot chocolate in there too!) to warm my frozen fingers up despite wearing my wheelchair propelling gloves all day. The hotel had kindly gifted us a lovely bottle of prosecco, Cambridge guidebook and some brownies. It was really handy to have the fridge under the desk to chill the prosecco but, beyond your cold bottles of water, it is always a really useful resource to have as a medication fridge or for those who use insulin or other  fridge-based medications.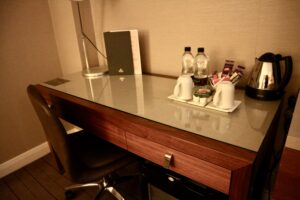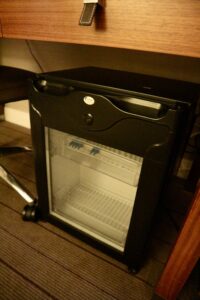 Our room was a lovely size and had plenty of room for me to self-propel around in! I loved seeing the large king-sized bed which turned out to be nice and supportive on my back (which is very picky on mattress choice due to my spinal cord damage and resulting pain so well done to the hotel!) and the comfy feather pillows. There was a nice amount of space down the right hand side of the bed for a person with mobility requirements or a wheelchair user but the left hand side of the bed was not suitable for the width of my conventional manual wheelchair. The alarm clock and thermostat were located to the left side of the bed so were inaccessible; this has been fed back to managing staff. However, I did love that I felt really safe in the room as the red emergency pull cord was located on the right of the bed (where I obviously slept, having mobility requirements) and it hung all the way to the floor. I love it when hotels fully realise that cords need to reach the floor so disabled guests can reach them in the event of a fall! The phone was also on the right hand side table with clear and simplistic labelling so many guests could phone down to reception with any requirements that they had. There was an ironing board and safe within the wardrobe and a luggage rack to help with easy unloading of all of your nice travelling outfits from your suitcase.
I found the staff really helpful at reception when we asked for things like extra coffee and even plates and cutlery to enjoy a Deliveroo meal in our room. I was personally exhausted from travelling since it affects my disability greatly so I wasn't wanting to go out into the lounge area outside the rooms, despite it being really pleasantly decorated, accessible to my needs and having a disabled-friendly toilet. We could also have easily ordered room service using the internal phone system with options such as pizzas, Goan fish curry, chilli (vegan or beef) and Korean chicken. These did look delicious on our wheel past the dining area when looking at others' food! You could ask members of the Dining Management Team about allergens and they were very knowledgable and vegan/ vegetarian options were clearly marked. 
We had a large TV (and a plate of delicious brownies!) within the room for some relaxation time to switch off from the busy day we had had. We had visited the beautiful grounds and chapel in King's College which was stunning but we had gotten ourselves thoroughly frozen on the first day of our explorations in the frosty November UK weather. You can see the online accessibility guide here. When entering King's College, you can get a carer ticket for free alongside the £10 full price entry fee for the disabled ticket. We found the whole experience utterly magical; particularly for such a reasonable price! The historic Cambridge landmark is only a brief five minute walk from the central Hilton Cambridge City Centre location so we were very lucky. In fact, I absolutely loved that we never had to get in a taxi at all in the whole time that we visited Cambridge and could genuinely experience the culture of the city on foot (or "on wheel") together. I think you miss so much when the world whizzes by in a car and there was so many buildings with intricate, historic architecture that weren't even listed on the map as "important for sight-seeing" but were marvels in themselves. Plus, the hugely central location saved us tonnes of  money in taxi fares and kept Richard and I fit whilst pushing/ self-propelling my wheelchair haha!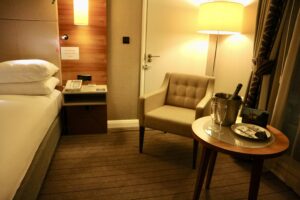 The bathroom within our accessible room had a slight lip to enter since it was a wet-room and this would prevent water flowing onto the hallway carpet. I had no problem going over the lip with my wheelchair though. The door was a sliding door but was light enough that I could pull it without my joints dislocating but the handle may cause some challenges for those with dexterity problems since it was a shallow, dipped in handle (see picture). I loved that again the red pull cords reached the floor fully (both by the toilet and by the shower) and that there was a phone within the bathroom to ring out for emergency purposes! I also really liked the amount of hand-rails and grab rails and the fact that the sanitary bin was within easy reach of the toilet for use whilst seated without needing a transfer. You may need to push this back slightly if you were in need of a full side-transfer to the toilet from your wheelchair. I could use the sink whilst sat in my wheelchair and there was plenty of room both in the bathroom as a whole and in the shower. There was a mirror above the sink but also a beauty/shaving mirror that was posable and adjustable so it could completely be tilted to see your face in a seated position easily. The floor length mirror in the hallway also was very useful for putting makeup on; I maybe even wish there was a small fold-out tray table beside that mirror so I could place my makeup items on this whilst I did that but that is just splitting hairs really as the room was great.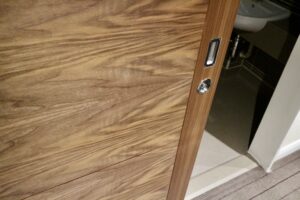 Richard and I had a very cosy night while the frozen wind whistled outside (although, thankfully no snow fell!) and then woke up with plenty of time for breakfast. Those of you who have followed my blog for a while know that I take nutrition from my PEGJ tube feed but still eat food despite losing it. Breakfast was self-service and we were allowed to sit on any of the available tables that suited the wheelchair and my access requirements but the staff did kindly offer to help with service of the food if we needed it. There was such a huge selection of food and drink that I really was blown away! To drink, there was a selection of cold juices (grapefruit, apple and orange) and a strawberry smoothie. There were also hot drinks available in to-go cups or conventional coffee mugs depending on how busy your morning in Cambridge was such as coffee, hot chocolates, mochas, cappuccinos and tea (fruit/ green/ English breakfast etc). Soya milk and almond milk  were available to top up hot drinks if you were dairy free.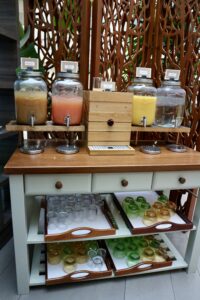 In terms of the food selection, we were so happy with the variety! If you fancied a lighter breakfast, there were cereals (with almond/ soya milk available again), pots of yoghurt and fruit salad with apricot and cherry compote to top these. There was also a continental selection with a variety of cheeses including cheddar, brie and Philadelphia (although I love my food, sometimes I can't name cheese types to save my life so please see the photo haha!). There were cold cuts of turkey, ham and salami alongside tomato, cucumber and mackerel fish. You could also toast your own fresh slices of bread to your liking or choose from other baked delights such as bagels, crumpets, croissants, and pastries. There were to-go bags beside the pastry section for busy people who were about to head away from the hotel and needed a quick breakfast.
We particularly LOVED the waffle machine and the fact that you made them yourself! I wouldn't have been able to reach this personally from a seated position but there were plenty of staff around; one actually had to help poor Richard after he couldn't set the timer off and was worried the waffle would be in there to burn haha! That is his user error though for sure. I am an absolute sucker for anything sweet for breakfast so I absolutely chose a waffle and liked the fact that these were gluten free too. You could ask any of the Dining Managing Staff about allergy requirements and there were big signs clearly noting this everywhere and all dishes were clearly labelled. The waffle machine was really fun and you could have these with toffee sauce or maple syrup alongside any of the fruit compotes in the fruit station next door! 
Of course, breakfast in Hilton Cambridge City Centre wouldn't be complete without the wonderful full english breakfast selection that they have! This is absolutely Richard's favourite section of the breakfast area and he was delighted with the quality of the meat and the variety to select from. On offer, there was bacon, pork sausage, vegetarian sausage, hash browns, halved tomatoes, baked beans, button mushrooms, free range scrambled egg and also fried eggs. Need I say more!! You could also ask for an omelette to be made for you in the station next to the full english area if you preferred that! 
The food was absolutely delicious and the ingredients were clearly of a high quality. The staff were really friendly and had offered to help with serving my meal which is nice as some wheelchair users travel on their own and may struggle with balancing hot plates on their lap whilst propelling! It was also really lovely to see that the tables were sufficiently spaced out for my wheelchair to nip around easily and also for me to feel socially distanced with the current climate. The "terrain" of the breakfast area was large, smooth tiles that were very easy to propel over and then transitioned to carpet of a very high density in the seated area; I also found this flooring simple to turn the chair and propel around over.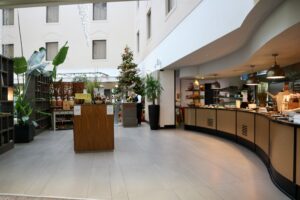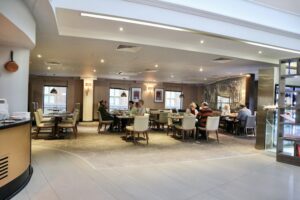 The nearest disabled toilet is around a two minute propel away; back to the right hand side of the check-in reception desk. There were no obstacles in the way but the doors into the toilet area and into the disabled toilet itself were fairly heavy (presumably fire-safe) doors; on both occasions I visited this toilet, the reception staff actually helped with the door when I struggled a tad so this was great! The toilet itself was fairly compact for a disabled toilet so I wouldn't recommend using this if you have a chair much bigger than a standard adult manual wheelchair (unless you have spinning/ turning skills that are far greater than mine!) as your accessible rooms are very close by and within another couple of minutes to wheel. However, this toilet was absolutely great on the amount of grab rails everywhere and the fact that I could reach the toilet roll, lowered sink and soap effectively. You can transfer onto the toilet easily from the front and from the righthand side if you moved the bin slightly. Again, I really have to praise the hotel that the red emergency pull cord actually hit the floor for easy reach in the event of a fall. The powered hand dryer was hard to reach from a seated position due to the position of the sanitary bin in the corner but I've asked management about moving that bin to within seated reach of the toilet anyway.  
Overall, I absolutely loved our stay with Hilton Cambridge City Centre; I was actually so thrilled with the really central location and the fact that we could park our car through the valet or via various disabled parking spaces in the city since we have a valid Blue Badge. I found that the communal spaces had very easy access and there were clear ramps, lifts and the underfoot flooring was easy to propel over. Our bedroom had plentiful space and the bed was really comfy. I was really impressed with the amenities and the staff throughout the visit but only one side of the bed was accessible to me as a wheelchair user so that is worth bearing in mind upon booking. The bathroom within the bedroom had all the grab rails I needed and I found it accessible for my needs but the bathroom by the check in desk was slightly small and had heavier fire doors. The dining area bathroom was fine for me in my smaller manual chair though and had all the accessible amenities I needed. The breakfast in the morning of our stay was absolutely delicious and there was SO much variety in the food! I liked that the staff were knowledgable about allergens and also just really friendly people who offered to help serve me a plate of food if I required one while propelling. We actually even had an afternoon tea at Hilton Cambridge City Centre the next day which was so delicious; I'll link that blog post and Instagram reel here!
   You can book both the king accessible room and the twin accessible room via the Hilton website now and also through ringing the hotel on 01223 464491 – it is nice to have options in the booking process for those with speech difficulties such as some variants of Cerebral Palsy.
I will absolutely be visiting again and also checking out other accessible Hilton locations within the chain!